Contrary to what we believe, the recent Delhi riot wasn't for the recently implemented Citizenship Amendment Act (CAA). Recent Delhi riot was something far more dark, far more evil, far more twisted than what we can really think of.
What is CAA? In simple words, this gives citizenship to the persecuted religious minorities from Pakistan, Bangladesh and Afghanistan. These religious minorities aren't only Hindus. They include Sikhs, Buddhists, Jains, Christians, and even Parsis and Jews too. Why only Pakistan, Bangladesh and Afghanistan? Because India shares border with them and religious persecution indeed happens in these countries while other neighbouring countries like Nepal and Sri Lanka are safe for religious minorities. So in general, CAA doesn't threaten any Indian Muslims or any other Indian minorities; it just gives safe shelter and citizenship to persecuted minorities from the three anti-minority countries.
What is the most surprising thing in all this CAA issue is that the educated, reputed personalities and celebrities with liberal mindset are creating an unnecessary ruckus by equating CAA and NRC and presenting them as a single package.
Whether it's Bollywood actress like Swara Bhaskar, or political strategist like Prashant Kishore, they have been seen saying on TV debates and interviews that CAA and NRC are targeting the Muslims of India. On the other hand, I can't find a single educated influential personality from India's second-largest majority community to stand up and say that NRC and CAA are different things, NRC hasn't been implemented and that CAA won't affect Indian Muslims. Is there no educated, influential personality in this community to clear the clouts in the minds of Indian Muslims regarding CAA? Or is it a deliberate silence? This is one of the main reasons why Delhi riot happened.
The second reason for Delhi riot is the selective, shameless inactivity by certain state governments. The anti-CAA protest first started in NE. The native indigenous people had a fear that with CAA, more Bangladeshi Hindus would enter India who would settle in NE regions, which would affect their demography. After respective state governments and Home Minister Amit Shah assured that their indigenous rights would be protected by ILP and 6th Schedule, the anti-CAA protests in NE, which was never a massively violent one, died within few days. A major dissent was easily solved within days.
However, when this anti-CAA agitation reached West Bengal, the whole world saw how certain people of specific ideology were burning trains, damaging railway stations and causing severe damage to public property. It has been estimated that a total of Rs. 90 crores worth Eastern Railway property had been damaged and damage of property worth Rs. 72.19 crore was from West Bengal alone. Recently, WB CM Mamata Banerjee had visited the Puri Jagannath Temple to pray for peace and harmony in the country. I fail to realize, what was she doing when her own state was burning?
The secular media along with the liberals are blaming Kapil Mishra along with Anurag Thakur for the Delhi riot. Certain secular people are also saying "we never thought that we can have Hindu Muslim riot in Delhi". Some liberals are also demanding capital punishment for Kapil Mishra for his statement– "Three days' ultimatum for Delhi Police – clear the roads in Jaffrabad and Chand Bagh. After this, we won't listen to you". People are also blaming Anurag Thakur for his speech "Desh ke gaddaro ko, Goli maaro saalo ko". From when is it a crime to punish the traitors of a nation? Anurag Thakur only mentioned about traitors, not any specific community.
RSS atankwaadi are the killers of #RatanLal.
Who are their handlers ?
Who funds these BJP Gunde & his gang ?
If #Kasab can be hanged why not them?#WhyBJPBurningDelhi #KapilMishra should be hanged till death bcoz he sponsored this terrorism#AmitShahMustResign #DelhiPolice pic.twitter.com/SVjBJLh0Qj

— Arshad Kamal (@akamaltanha) February 24, 2020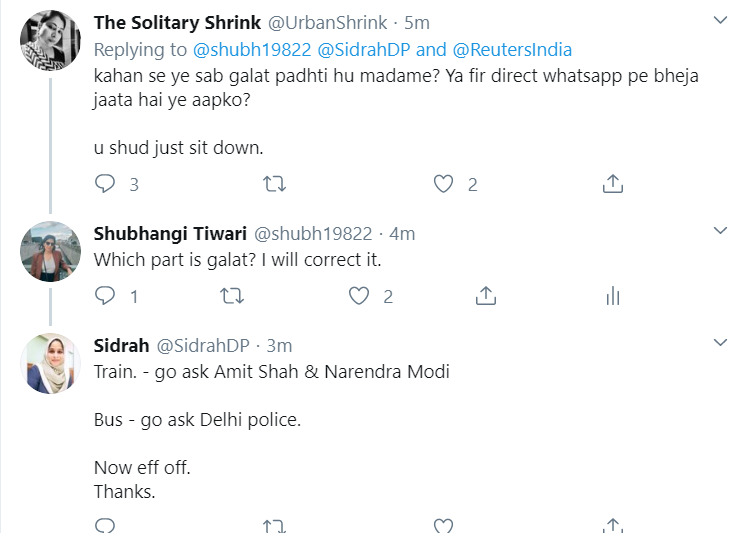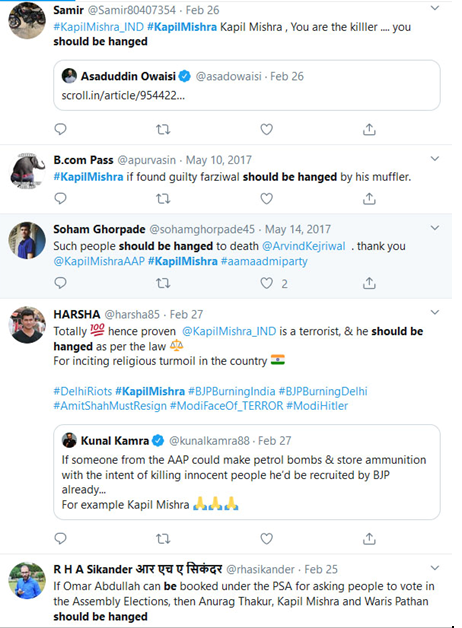 Kapil Mishra's statement was an outburst of a common human being who is frustrated with the recent ongoing and mindless ruckus of anti-CAA protest and the chaos and disorder caused by mob of certain ideology which is destabilizing law and order for over two and half months. Liberals would try to hang Kapil Mishra by calling his statement a riot-instigating communal speech, but in a sensible mind, it was just a plea to the Delhi police, where the tone was strong due to months of frustration.
When anti-CAA protest reached Bihar back in December 2019, we saw how a mob vandalized a Hanuman temple in Phulwari. If the agitation was against the current Modi government's decision of implementing an Act called CAA, why a Hindu temple was vandalized when we claim that Government of India is secular by nature? This states that the agitation isn't against GoI, it is against the very identity of Hinduism. Poems like Faiz Ahmad Faiz's "Hum Dekhenge", "Bas naam rahega allah ka" are themselves enough to convey the anti-Hindu mindset of certain people who claim to be patriots. Moreover, the controversy regarding the Pakistani Poet's "Hum Dekhenge" poem also revealed Bollywood's mindset which came out openly to defend the poem.
One such self-proclaimed deshbhakt, JNU student Sharjil Imam was seen openly saying ""Cutting off Assam is our responsibility. Let Assam and India be separated, only then they will listen to us. You know what the condition of Muslims is in Assam, CAA, NRC has been done over there, people have been thrown in detention camps and well, the massacre is taking place over there but in the next 6-8 months, we will find that all Bengalis have been killed, be it Hindu or Muslim. So, if we want to help Assam, we will have to close the gateway to the northeast. The Chicken's neck belongs to the Muslims, that area is dominated by Muslims."
In another such case, former AMUSU President Faizul Hasan gave another seditious statement that if people of his community are provoked, then they can destroy any country. In simple words, Faizul meant to say if people of his community get provoked due to CAA, they will destroy India.
In another such hateful statement, a Maulana named Mufti Shahryar Raza had incited open hostility against Hindus, gave threats to PM Modi and HM Amit Shah and even said that woman like Sushama Swaraj, who didn't let Sonia Gandhi become the PM of India, is now dead. In the video, the fanatical Maulana can be seen threatening PM Modi and Amit Shah with a dire fate and asserting that in the next 30 years, Muslims will start dominating the country as their population will swell to 60 crores. Maulana cites deaths of former EAM Sushma Swaraj, former Finance Minister Arun Jaitley, former PM Atal Bihari Vajpayee, former Delhi CM Sheila Dikshit to claim that PM Modi and Amit Shah will meet a similar fate in the next 3-4 years. He also said- "30 years from, Muslims will population will rise to 60 crores and if the children of those who dream of an Islam-free India remain alive, they will see that the flag of Islamic sultanate will be waved everywhere in India," The video is also available in youtube.
Be it a Maulana, some students or the elected representatives like Asaduddin Owaisi, Waris Pathan and Amanatullah Khan, certain extremist personalities have equally contributed in spreading anti-Hindu hateful statements to make the situation worse. Waris Pathan's recent hateful statement– "100 crore Hindus are no match for 15 crore Muslims" was just a re-statement of Akbaruddin Owaisi's speech– "Remove army and military for 15 minutes. We 25 crore Muslims will finish 100 crore Hindus." Not only this, even back in July 2019 Akbaruddin Owaisi claimed that his statement was not communal.
Not only AIMIM leaders like Owaisi or Pathan, even AAP MLA Amanatullah Khan had given hateful speech "Inshallah, fascists will die and we will be the mean of their destruction. Somewhere, their end will start- maybe at Okhla, maybe at Jamia" while addressing anti-CAA protestors at Shahin Bagh.
I fail to realize, if Kapil Mishra is responsible for Delhi riot, then how are all these communal leaders, students, clerics not responsible for fanning out anti-Hindu hateful statements for months? Most importantly, why personalities with "holier than thou" attitude like Rana Ayyub, Javed Akhtar, Swara Bhaskar, etc never criticize these communal leaders from the other side?
Months of hateful speeches, months of anti-CAA protests in JNU, Jamia Milia, etc, months of roadblock in Shahin Bagh have made the common people frustrated- frustrated like hell. Kapil Mishra just gave voice to those frustrations of many.
Kapil Mishra just made a plea to the police. He didn't tell Mohammad Shahrukh to shoot at a policeman. He didn't tell rioters to put a drill in 19-year old Vivek Chaudhury's head. He didn't tell rioters to shoot Head Constable Ratan Lal or to stab IB personnel Ankit Sharma 400 times, pull out his intestines and dump his body in a drain. He didn't tell rioters to dump the nude body of a girl in the same drain and hide her burnt clothes in AAP leader Tahir Hussain's house. The man who is responsible for this is AAP chancellor Tahir Hussain. Crates of petrol bombs, acid bottles, weapons, catapult, chemicals, bricks, etc were retrieved from Tahir Hussain's house. Ankit Sharma's family has directly accused Tahir for their son's death which led to register a FIR against Hussain. BJP leader Subhramanian Swamy has voiced his opinion that Tahir might have killed Ankit Sharma because the IB personnel was probably investigating Tahir's links with Bangladeshi terror groups.
As soon as the violence broke out, our eminent intellectuals have systematically tried to demonize the Hindus and defend the actual rioters from the very beginning. Even though there are strong evidences about Tahir Hussain's active involvement in the riot and murder of Ankit Sharma, people like Javed Akhtar has openly defended Tahir by claiming that his religion being the main reason to invite an arrest.
So many killed , so many injured , so many house burned , so many shops looted so many people turned destitutes but police has sealed only one house and looking for his owner . Incidentally his name is Tahir . Hats off to the consistency of the Delhi police .

— Javed Akhtar (@Javedakhtarjadu) February 27, 2020
Along with defending the actual rioters, the people of specific ideology were in the forefront to term it as a pogrom of Muslims by majority Hindus. Scroll had come up with a specific headline- "Hindu mobs are throwing petrol bombs across the road at Muslim houses".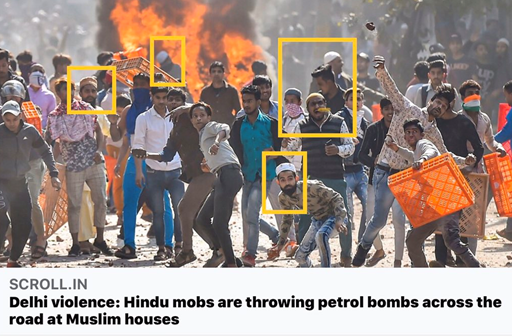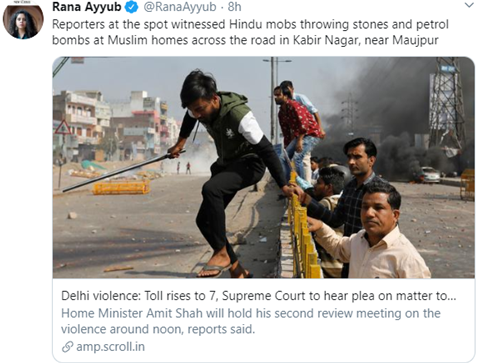 News portals like Scroll, The Wire, etc are running their anti-Hindu propaganda by terming it an anti-Muslim riot while totally ignoring the communalism and chaos initiated and spread by the other side.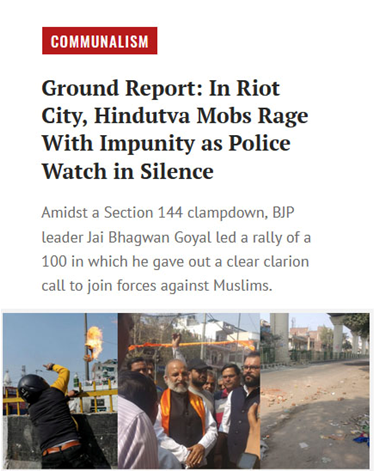 In the international media too, Hindus are being systematically demonized for the riot but no mentions of the communal leaders, extremist students or fanatic clerics who were fanning hatred for months in the disguise of anti-CAA protest.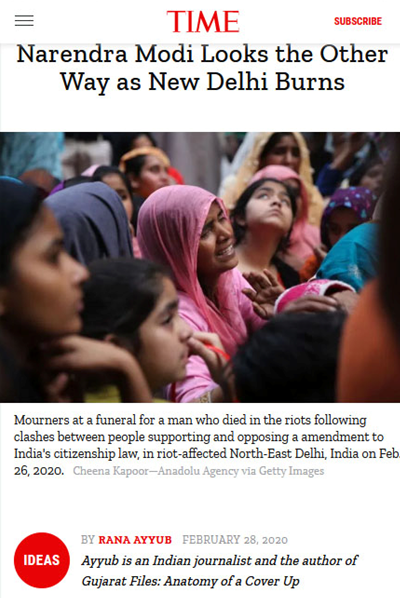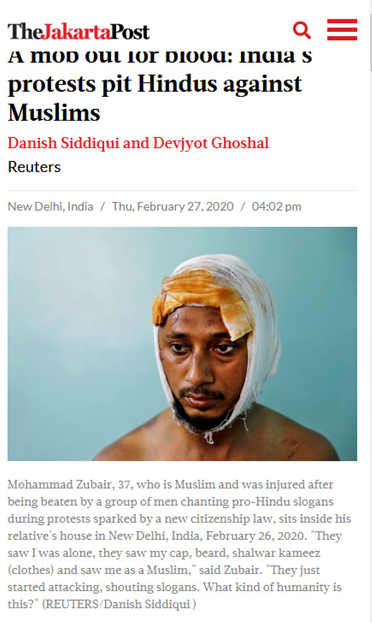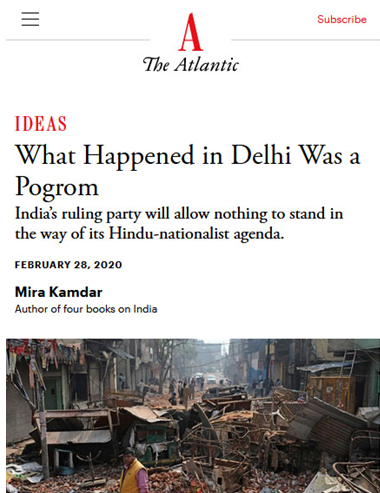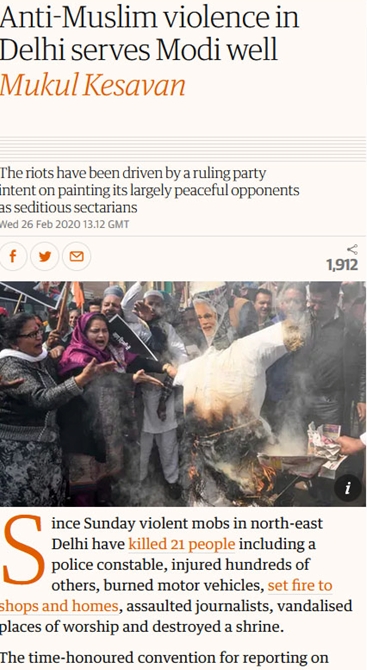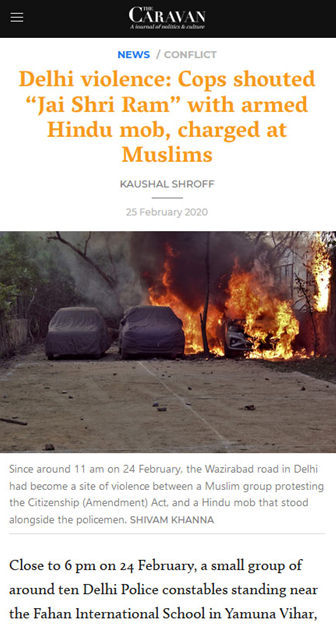 Even the UN has termed this riot as anti-Muslim riot while Hindus had received equal amount of burns too. The United States Commission on International Religious Freedom (USCIRF) also expressed alarm over reports of deadly clashes in New Delhi and termed it as anti-Muslim violence.
USCIRF is alarmed by reports of deadly mob violence targeting Muslims in New Delhi, #India and urges the #Modi government to rein in mobs and protect religious minorities and others who have been targeted. #DelhiViolence #CAAProtesthttps://t.co/MiUaDI2GnQ

— USCIRF (@USCIRF) February 25, 2020
The strategy actually worked the way it was planned. Certain people, who also claim to be the greatest patriots and get irked by Anurag Thakur's "Goli Maaro Gaddaro Ko" speech, chose the time of Donald Trump's India visit to defame India's image internationally by creating chaos and violence. They are successful in conveying the message that CAA and anti-Muslim attitude is targeting the Muslims of India. They chose this time to carry out another Shahin Bagh-like protest at Jafarabad where they blocked Jafarabad-Seelampur main road and metro station.
Security Update

Entry & exit of Jaffrabad have been closed. Trains will not be halting at this station.

— Delhi Metro Rail Corporation (@OfficialDMRC) February 23, 2020
The plan worked. The violence was triggered by certain strategists, which the world termed as an anti-Muslim riot. The loss of the majority community's people suddenly became invisible in front of international media's eyes and what caught the attention was the pain of Muslims only. Even the British government had termed CAA as divisive forgetting that it was the shameless British who made the "divide and rule policy" popular across the world.
There is a whole world-wide cabal that demonizes the Hindus for every instance of violence in India. Our eminent liberals were constantly provoking the Muslims by equating CAA with NRC and then provoking the Muslims to take extreme steps. I cannot believe that there is not a single educated and wise person among the intellectuals, the liberals and the Muslims to remove the confusion by explaining CAA to the Muslim community. This was deliberately done. Moreover, even wise educated Muslims were against CAA even after knowing all the details thoroughly. This was because the CAA doesn't allow the Muslims of Bangladesh, Afghanistan and Pakistan to settle in India, simply because they aren't the persecuted minorities in these countries.
Reality: She fell in a drain & injured while pelting stones on Police

Allegation: That Police beat her for protesting

This is how they spread their propaganda using such fake stories. Share max. pic.twitter.com/Bgta4LlhWE

— Niranjan Mohanty (@NiranjanPapun) February 26, 2020
With the influx of non-Muslims into India, the percentage ratio of the non-Muslim population compared to the Muslim population would increase too, even if slightly. Whether confused and ignorant or aware and informed, many political sections of Muslims in India don't want that. Last but not the least, the community we are calling minority is actually the second-largest majority community in India.