The death of the Unnao rape victim who was set ablaze allegedly by the accused has caused another massive outrage with netizens calling for action against the rape and murder accused. The victim succumbed to her burn injuries last night after she was airlifted to Delhi and was admitted to the Safdarjung Hospital.
While the whole country is talking about justice to the Unnao victim, the left-liberals have found a way to play disgusting politics over the case and peddle their agenda. The hypocrisy and grave inhumane psychology showcased by the left liberals is deplorable, giving the heinous crime a Brahmin angle is nothing short of a crime.
Surprisingly the whole left liberal gang had turned silent over the similarly heinous Hyderabad rape and murder case as there one of the accused was a Muslim. There was no such outrage not even on the Twitter regarding the religion or identity of the accused. However this time, with #UnnaoHangBrahminRapists trending, the left liberals have virtually framed the whole Brahmin community on Twitter.
The liberals have in the past too tried similar tactics of blaming the Brahmin community. When Twitter CEO Jack Dorsey had visited India and met a group of women journalists for a closed-door round-table discussion on how Indians experience Twitter, one of the liberal journalists Barkha Dutt present there tweeted a photo of Dorsey with the placard depicting a slogan 'Smash Brahmanical Patriarchy'.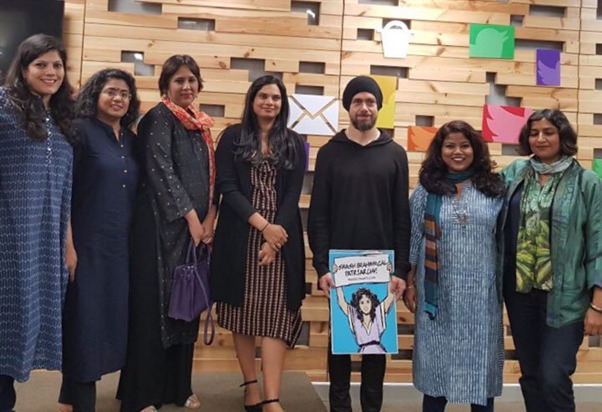 Pseudo liberal Ajit Anjum tweeted that these accused are Brahmins and that is why there is no outrage.
उन्नाव के सभी दरिंदे त्रिवेदी और वाजपेयी हैं .ऊंच कुल-गोत्र के ब्राह्मण.तभी बलात्कारियों का धर्म देखकर शोर करने वाले सन्नाटे में हैं या कुछ कहकर खानापूर्ति कर रहे हैं .अगर ये भक्तों के 'टारगेट वाले' होते न तो पूरी ट्रोल आर्मी दिन-रात काम पर लगी होती.#Unnao #EncounterNight https://t.co/dTFq6ffwNi pic.twitter.com/zOxR29Dkx8

— Ajit Anjum (@ajitanjum) December 6, 2019
Ashok Swain also tweeted saying, "She was raped and then set on fire by Shivam Trivedi & Subham Trivedi! How many will celebrate their encounter?"
She was raped and then set on fire by Shivam Trivedi & Subham Trivedi! How many will celebrate their encounter? https://t.co/xScpELYype via @ndtv

— Ashok Swain (@ashoswai) December 6, 2019
All the accused are Brahmins, so no sign of the lynch mob https://t.co/QG1E3sKllQ

— Debasish R Chowdhury (@Planet_Deb) December 5, 2019
Hartosh Singh Bal went further to create a communal divide among the Brahmin and the other communities instilling that the UP police was protecting the accused as they were Brahmins.
it is good that a trigger-happy UP police has so far ensured that the legal rights of the 5 brahmin rape accused who have tried to burn the complainant to death have not been violated. can we extend such consideration to other communities, to all citizens.https://t.co/EgnSH9gWUD

— Hartosh Singh Bal (@HartoshSinghBal) December 6, 2019
Unnao victim was a minor, the UP Police failed to give security and all 5 accused are Brahmins.

Harishankar Trivedi
Ram Trivedi
Shivam Trivedi
Shubham Trivedi
Umesh Bajpai

And yet Indian Media will not show their names. How Casteism works in Media & India.#UnnaoCase

— Advaid (@Advaidism) December 7, 2019
Left liberals have yet again showed that they are a blot on Indian culture of compassion towards the grief-stricken, totally misusing the 'freedom of expression'. They have a history of giving rape a communal angle with the most recent example of Kathua rape case in J&K in which the left liberals along with their brain dead celebrity friends moved earth and heaven in order to taint the whole Hindu community of the country.
The people, who have been for long been pronouncing that terrorism and rape have no religion, are suddenly overwhelmed in demonising the Brahmin community. However their outrageous silence over the accused involved in the Hyderabad case exposes their hideous communal faces. This must be mentioned here that their motive is not only to demonising Brahmins but to taint the legacy of the Indian culture as these people who have been vocal supporters of foreign attackers have a deep rooted disgust for every aspect of the Indian ethos and Brahmin being a part of it they will not leave anything to disparage them.