Prime Minister Modi's charisma and his ability to connect with the audiences were on full display at the 'Howdy, Modi' event which was a full-house. As over 50,000 Indian Americans gathered at the event, even US President Trump wanted to encash PM Modi's popularity which would help him in his re-election campaign. The event caused massive heartburn in Pakistan with Imran Khan and his party PTI playing every dirty trick up their sleeve to sabotage PM Modi's event but unsurprisingly gloriously failed, causing further embarrassment to the failed state of Pakistan.
PM Modi arrived in the US with much fanfare and the US government laid out a red carpet for him and was received by Director of Trade and International Affairs, Christopher Olson, US Ambassador to India Kenneth Juster, and other officials at the airport. Drowned in the chants of 'Modi Modi' somewhere Pakistan PM Imran Khan arrived in the USA on a Saudi plane and the US government didn't send any of their representatives let alone laying down the red carpet to welcome him at the airport and Khan was received by Pakistan's UN Ambassador Maleeha Lodhi. Comically, the Pakistani Embassy in the US laid a red doormat for Khan upon his arrival at the airport. PM Modi's rising popularity, not only in India but also globally, is giving some major sleepless nights to Imran Khan and his party. The 'Howdy, Modi' event would have only increased PM Modi's popularity and further weakened Pakistan's footing in the international arena. Hence, Pakistan being Pakistan attempted to sabotage the event by organising various protests over the 'human rights violations' by India.
Fayaz Kahlil who claims to be the "Founder Member of PTI Youth wing" and has a picture of himself sitting with Imran Khan on his Facebook account, attempted to gather a crowd for the 'protest' to force PM Modi to go back.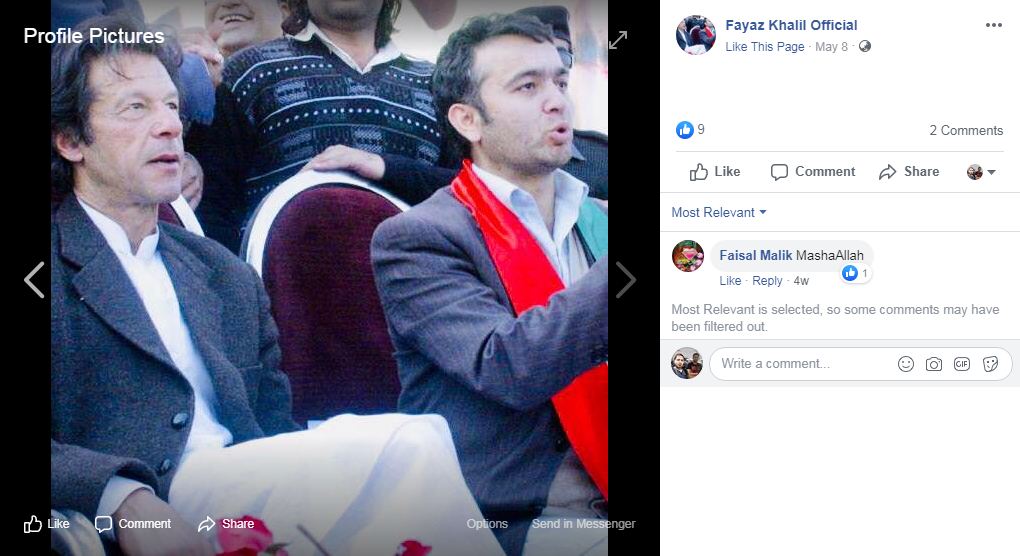 The protests were being publicised under different names such as "Unwelcome Modi", "Kashmir Rally" and "IHF Modi Protest" to make it look like several protests are being organised by diverse groups. To drum up the Khalistani separatists, Ghazala Habib, president of Friends of Kashmir organisation started an account under the banner of 'Go Back Modi'. Habib has made it a point to flaunt her connections with Pakistani lawyers and former Pak ambassador to the US, Aizaz Ahmad Chaudhry across her social media accounts.
At a time when Pakistan is cash-strapped and is forced to resort to delirious austerity measures like selling of buffaloes, Imran Khan decided to pump in money to organise the protest which was evident when from earlier posts where the participants were urged to car-pool for the event were informed that there were "many deluxe coach buses to take protestors to NRG Stadium on Sunday" free of cost. The protest was also posted on event sites like Eventbrite with "free transportation" for individuals and groups to Houston and based on the social media posts, the local unit of Amnesty International was also supporting the protest.
Such is the desperation of Pakistan and its Prime Minister that they have to take such extreme measures to counter Prime Minister Modi's rising popularity. The Indian officials on their part moved swiftly in face of such 'fixed' protests and organised outreach programmes where the Prime Minister met Dawoodi Bohra community upon his arrival in the US which came as a rude shock to Pakistan. The Prime Minister also reached out to the Sikh Community in Houston to counter the Khalistani separatists and finally met the Kashmiri Pandits and his meeting with the community dominated the headlines where the community in an emotionally charged meeting thanked the Prime Minister for abrogating Article 370.
As is the case with Pakistan and failures, its move to drum up 'fixed' protests delivered little gains as the event registered blockbuster success with PM Modi managing to captivate the world with this event. As if to rub salt into Pakistan's wounds, Pashtuns, Sindhis and Baloch people were also at the event to extend support to Modi and seek Modi and Trump's help against Pakistani atrocities. Pakistan's Science and Technology Minister who continues to provide comic relief to Indians by regularly showing his ineptitude on Twitter tried to gain solace by claiming that the stadium was 'empty' despite spending 'Billions of Rs.' Even DGISPR Asif Ghafoor known for his comic takes on the 'might' of Pakistani Army tried to portray that PM Modi was going to enter a half-empty stadium. As the evening progressed, PM Modi addressed a jam-packed stadium forcing Ghafoor to delete his tweet.
Imran Khan will yet again try to internationalise the Kashmir issue at the UNGA in a bid to drag away attention from his government's failures and atrocities. Pakistan's reaction to Article 370 has been wild and reckless with its Prime Minister threatening a nuclear attack 'if the world didn't stop India's aggression.' The attempt to fix protests against Modi are signs that Pakistan's bluff has been called and Imran Khan is fast running out of options as he and his Ministers continue to face humiliation from all corners.