Recently, Karan Johar courted controversy with one of his social media posts, when Shiromani Akali Dal MLA Manjinder Singh Sirsa objected to the same by posting the following on his Twitter timeline:
#UDTABollywood – Fiction Vs Reality

Watch how the high and mighty of Bollywood proudly flaunt their drugged state!!

I raise my voice against #DrugAbuse by these stars. RT if you too feel disgusted @shahidkapoor @deepikapadukone @arjunk26 @Varun_dvn @karanjohar @vickykaushal09 pic.twitter.com/aBiRxwgQx9

— Manjinder S Sirsa (@mssirsa) July 30, 2019
This video  of a party was uploaded by Karan Johar on his Instagram page, in which many popular Bollywood celebrities were present as well, and most of them were in an allegedly inebriated state. Among the celebs present were actors Malaika Arora, Deepika Padukone, Arjun Kapoor, Shahid Kapoor, Varun Dhawan, Vicky Kaushal and Ranbir Kapoor and directors like Zoya Akhtar and Ayan Mukherjee. According to the video, it looked as if most of the actors had allegedly consumed drugs, as alleged by Manjinder Sirsa. 
It was on this incident that Manjinder Singh Sirsa had raised his objections and exhorted the people to call out these stars for their alleged hypocrisy. He also appealed to the Mumbai police to register an FIR against these people for openly promoting drug abuse.
However, denying these accusations, Congress leader Milind Deora tried to alleviate the situation stating that his wife was present at the place as well, and no drugs were used throughout the party. He also demanded Manjinder Sirsa to issue an unconditional apology, which Sirsa refused to comply without any hesitation –
My wife was also present that evening (and is in the video). Nobody was in a "drugged state" so stop spreading lies & defaming people you don't know!

I hope you will show the courage to tender an unconditional apology https://t.co/Qv6FY3wNRk

— Milind Deora मिलिंद देवरा (@milinddeora) July 30, 2019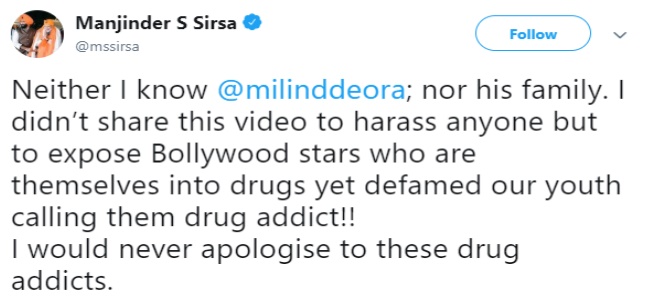 Following this, Manjinder Sirsa recently posted an open letter on his Twitter timeline, wherein he stressed on the need of Bollywood stars to be held accountable for their actions –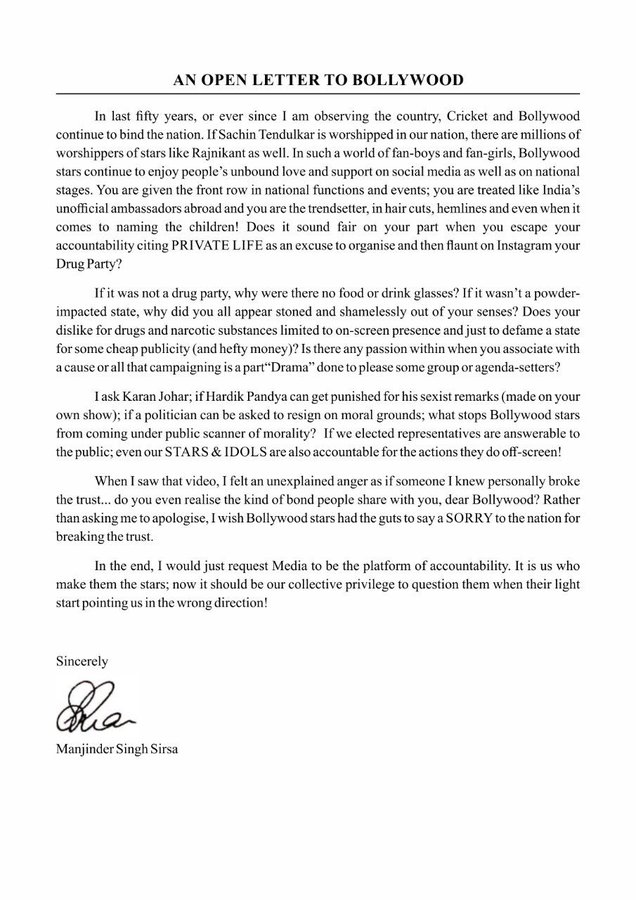 In the letter, Manjinder Sirsa stressed on how Cricket and Bollywood has united the nation, and how the present incident has destroyed his notion on the same. According to an extract from the letter, "If it was not a drug party, why were there no food or drink glasses? If it wasn't a powder impacted state, why did you all appear stoned and shamelessly out of your senses? Does your dislike ror drugs and narcotic substances limited to on-screen presence and just to defame a state for some cheap publicity (and hefty money)? Is there any passion within when you associate with a cause or all that campaigning is a parr'Drama" done to please some group or agenda-setters?
I ask Karan Johar, if Hardik Pandya can get punished for his sexist remarks (made on your own show),  if a politician can be asked to resign on moral grounds, what stops Bollywood stars from coming under public scanner of morality? If we elected representatives are answerable to the public: even our STARS & IDOLS are also accountable for the actions they do off-screen!"
If Manjinder's accusations are true, then what kind of precedents are these celebrities setting up for the Indian youth? If you detest the usage of drugs onscreen, and allegedly use the same off screen, is that not hypocrisy? 
Apart from that, a question needs to be raised on Vicky Kaushal as well, who has mesmerized one and all with his impeccable acting in 'Uri – The Surgical Strike', and has become an inspiration for the youth with future projects 'Sardar Udham Singh' and the iconic biopic on Field Marshal Sam Manekshaw. Even if he wasn't using drugs in this video, then by being dead drunk, what kind of message was he giving to the youth? We hope that the celebrities in the video come out clean, and if guilty, they should accept their faults without any hesitation.