Once known as the Quentin Tarantino of India, filmmaker Anurag Kashyap has officially called it quits to Twitter. He posted two 'emotional' tweets before deactivating his account:
"When your parents start to get calls and your daughter gets online threats, you know that no one wants to talk. There isn't going to be reason or rationale. Thugs will rule and Thuggery will be the new way of life. Congratulations everyone on this new India and hope you all thrive."
Wish you all the happiness and success. This would be my last tweet as I leave Twitter. When I won't be allowed to speak my mind without fear then I would rather not speak at all. Goodbye."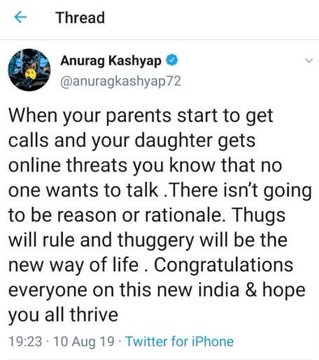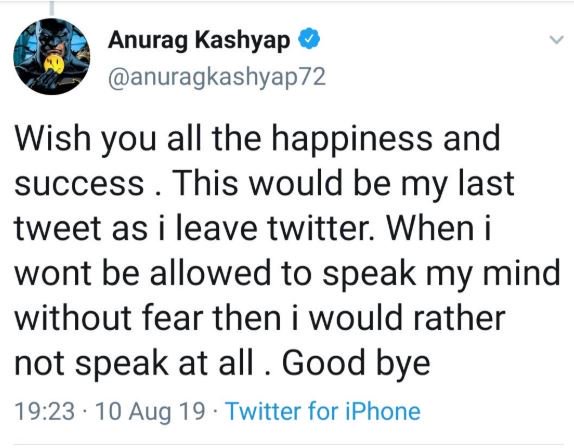 Following the decision, a number of journalists and intellectuals tried to sympathize with Anurag Kashyap on his alleged suffering. According to these people, freedom of expression must be respected –  
But we are the largest democracy !! https://t.co/ySPBEZ6P5i

— Tehseen Poonawalla (@tehseenp) August 10, 2019
Anurag Kashyap has deleted his account. His family was getting threats via phone and internet. Very very sad…. pic.twitter.com/DIakZCiSVv

— Manak Gupta (@manakgupta) August 10, 2019
Now Anurag Kashyap has been effectively silenced. Good for India !!!! He was speaking too much.
Long live Indian Democracy !!!!!!!

Congratulations Everyone On This New India": Anurag Kashyap's Last Tweethttps://t.co/XRTfkbST9o

— ashutosh (@ashutosh83B) August 11, 2019
Very sad that Sri Anurag Kashyap deleted his Twitter. It is sad & bad for democracy when we cant voice our opinion with out fear.

I disagree with Anurag Kashyap ji on 99% of issues, but his Right to say is our Responsibility as a Nation. #AnuragKashyap .. God bless
Jai Hind pic.twitter.com/GUwXp80tA6

— Rahul Easwar (@RahulEaswar) August 10, 2019
But why was Anurag Kashyap forced to quit Twitter? He is well known for showing the dark realities of human life without any hesitation in movies like 'Paanch', 'No Smoking', 'Gangs of Wasseypur', 'Ugly', 'Raman Raghav 2.0' , 'Dev D' etc. He has been appreciated for his unapologetic portrayal of the darkest characteristics of human behavior.
However, his dark side came out for the first time in the open, when Sanjay Leela Bhansali was assaulted by some Karni Sena goons during the initial shooting of Padmaavat. Not only did Anurag Kashyap criticize the assault, he also blamed Hindu terrorism for the same. It is one thing to criticize hooliganism, and another thing to give absolutely ludicrous excuses for attacking the hooligans. This began to expose the darker side of the filmmaker, which culminated in his quitting Twitter today.
During the release of Ae Dil Hai Mushkil in 2016, when people criticized the film crew for the presence of Pakistani actor Fawad Khan in the movie post the Uri attacks, Anurag Kashyap chose to blame PM Modi for the same. When one journalist from IBN News18 sought to clarify his stance on the topic, not only did Anurag respond rudely to her, but  also he did the atrocious task of making her cell phone number public, which led to the journalist being heckled and threatened by many people, including some anti social elements from across the border-
It's simply @anuragkashyap72 fault. People from Pakistan, Syria, n Bangladesh are calling @thakur_shivangi now.This is #Shameful on his part https://t.co/mJ4K6BWfGk

— Sumit Awasthi (@awasthis) October 18, 2016
Our reporter being harassed by calls and SMS after #anuragkashyap posted her no. on FB!!! @ibnkhabar @awasthis @singhppratap https://t.co/o53Ioo6jgX

— Parul Sabherwal (@parulsabherwal) October 18, 2016
#AnuragKashyap how cn u put no. of #IBN7 female reporter on ur FB page. She ws doing hr job askg 4 iv. Nw she's being harassd by calls & SMS pic.twitter.com/HNbOdl1GdF

— Kirandeep (@raydeep) October 18, 2016
However, this is not the first occasion when Anurag Kashyap resorted to such crass acts. In 2014, when the founder of Tehelka, Tarun Tejpal was accused of sexually assaulting his colleague, Anurag Kashyap was one of the most prominent defenders, who left no stone unturned in order to shame the victim and prove her accusations as mere lies.  Recently he also tried to demonize PM Modi over the removal of Article 370, for which he was brutally trolled by the netizens.
This is not all. When he wrote an open letter to PM Modi over the alleged mob lynchings of minorities along with 48 other left liberal personalities, he was criticized for his opportunistic approach by 62 other celebrities, including Prasoon Joshi, Kangana Ranaut, Vivek Agnihotri etc., who wrote a counter letter to PM Modi. Incensed at this bold approach, Anurag labeled them as 'Troll Army', as he previously did in many other instances –  
For such hypocritical behavior, Anurag was bashed left right and center by the social media users. Journalist Mayukh Ranjan Ghosh led the brigade, directly asking Anurag if he wishes to reignite the Intolerance debate with such actions –
#AnuragKashyap leaves #Twitter for now. Calls "atmosphere not conducive for Free Dialogue." Congratulates people for this #NewIndia.#IntoleranceDebate back? Remember, Kashyap was one of the 49 signatories who wrote to PM Modi against #Lynching & growing #Intolerance in #India. pic.twitter.com/DN6nRTWYzS

— Mayukh Ranjan Ghosh (@mayukhrghosh) August 10, 2019
When one of his employees was allegedly sexually harassed by his colleagues, #AnuragKashyap didn't speak his mind then, While I fully condemn the threats to his family, but Kashyap would now realise what's it like when your own are victimised

— Mayur Lookhar (@mayurlookhar) August 10, 2019
Apart from Mayukh, director Vivek Agnihotri and producer Ashok Pandit lambasted Anurag Kashyap for his selective outrage. To quote Vivek's tweet, "This is absolute rubbish. When I was assaulted, you were celebrating it with your silence. Now you use some crazy trolls to play victim card. There is no celeb who is not trolled/threatened. Come and check my DM, you will feel better. Quitters never win. Winners never quit."
Comrade, जब अपनी बात पे लड़ने की हिम्मत ही नहीं तो फिर पॉलिटिक्स पे बेवजह बोलते ही क्यों हो।

झूठी चिट्ठियाँ लिखोगे तो लोग ऊँगली उठाएँगे ही।और मैदान छोड़ के भागना था तो झूठी चिट्ठी लिखी ही क्यों?

क्या हुआ, अब Minority के लिए सारी हमदर्दी उड़न छू?

ऐसे आएगा क्या Revolution?

— Vivek Ranjan Agnihotri (@vivekagnihotri) August 11, 2019
This is absolute rubbish. When I was assaulted, you were celebrating it with your silence. Now you use some crazy trolls to play victim card.

There is no celeb who is not trolled/threatened. Come and check my DM, you will feel better.

Quitters never win. Winners never quit. https://t.co/ukoYjFZpf2

— Vivek Ranjan Agnihotri (@vivekagnihotri) August 11, 2019
To be honest, hypocrisy has found a new name with Anurag Kashyap. A self proclaimed liberal, Anurag could not even tolerate the criticism on his absurd take on the removal of Article 370 and ran away without a fight.