In another positive development in Kashmir, media reports suggest that over the past few months the ceasefire violations near LoC have seen sharp decline in intensity. The usage of artillery guns and other high caliber equipment has nearly come to a halt. Government officials have attributed the drop in ceasefire fire violations to "induced behavioural change" in the Pakistani security establishment after the Balakot anti-terror strikes in Khyber Pakhtunkhwa.
"We can say that there has been a reduction in ceasefire violations and caliber escalations have stopped since April. This has happened after Balakot (air strike), and it is an induced behavioral change," a top government official told The Indian Express.
According to the report, the number of ceasefire violations dropped from 267 in March to just 181 in June. However, other than the decline in frequency, major shift can be seen in parties desisting from any "caliber escalation" or incremental use of weapons of higher caliber to respond to ceasefire violations.
"Small arms firing on the LoC is par for the course. It can be understood in the context in which the deployment is there. It is still there. It is the caliber escalation to ATGMs and artillery that was very high, which has stopped now," the official said. The official also pointed out that increased use of hotlines between the two militaries has also contributed majorly towards achieving this deceleration.
These are the first signs of de-escalation after tensions between India and Pakistan peaked after a deadly terror attack by Pakistan based terror group in the Indian state of Jammu and Kashmir, which killed more than 40 soldiers of the Central Reserve police force. India had promptly assessed the situation and in an anti –terror strike , Indian Air Force destroyed a major terror camp in Balakot, Pakistan in which, according to Intelligence reports, around 300 terrorist could have been killed in action . The Indian forces successfully entered in Pakistani territory and destroyed terror camps without being detected by Pakistan's air defense radar systems.
Nonetheless going by Pakistan's track record, India surely has to keep the pressure up consistently to discourage Pakistan from destabilizing the region.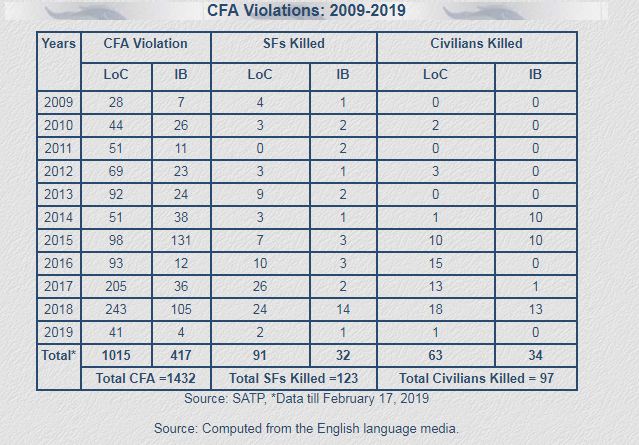 #BREAKING: Govt inside parliament says in first six months of 2019 situation in the state of Jammu & Kashmir has seen improvement with 28% decline in terrorist acts, infiltration reduced by 43%, local recruitment declined by 40% and neutralisation of terrorists increased by 22%. pic.twitter.com/N4uzEfqWIY

— Aditya Raj Kaul (@AdityaRajKaul) July 9, 2019
The multidimensional approach of the Indian security forces combined with the support of political leadership has been successful in creating a shield of deterrence against external aggression. India's firm resolve to protect its national interests against external hostility with punitive action has further discouraged destabilizing elements. However, it is pertinent to note that India had already set the tone after 2016 surgical strikes on terror launch pads across the LoC in which around 40 terrorists were neutralized following the terror attack on the Uri base which left 19 soldiers dead and the Balakot anti-terror strikes were just an extension of India's stand against foreign hostility. Parties desisting from any "caliber escalation" is surely a good sign for the stability of the region, however, it remains to be seen if Pakistan has conclusively mended its way or this is just a temporary reaction of increased pressure from India and the International community against terrorist organizations operating out of Pakistani territory.