Securities and Exchange Board of India (SEBI), the securities market regulator of the country has barred the access of Prannoy Roy and his wife Radhika Roy, the promoters of NDTV from the securities market for two years. Both promoters were also barred from holding any management position in their company, NDTV for two years. They were barred from securities markets for insider trading.
The SEBI order read, "… the Noticee no. 2 (Mr. Roy) and 3 (Ms. Roy) had this avowed duty to act in a fair and transparent manner to protect the interest of their minority shareholders and not to indulge in any fraudulent activity or any activity detrimental to the interest of the shareholders of NDTV."
"However, contrary to the same, in the present case, the Noticees i.e. the promoters and directors of NDTV have been found to have indulged in fraudulent acts wherein they have bartered away the interests of NDTV…," it added.
Prannoy Roy holds 15.94 percent shares of NDTV and his wife holds 16.33 percent. RRPR holding Pvt Ltd, a fully owned company of Roy's holds another 29.19 percent shares of NDTV.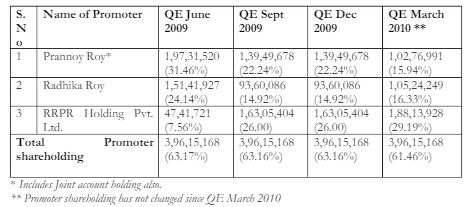 The SEBI order is based on a complaint filed Sanjay Dutt who is a minority shareholder in Roy's firm through Quantum Securities. As per the SEBI order, RRPR Holdings, Prannoy and Radhika Roy, the majority shareholders of NDTV violated the regulatory orders by not disclosing the loan agreement with Vishvapradhan Commercial (VCPL), a company previously owned by Mukesh Ambani but now in hands of Nahata Group.
VCPL gave a loan of 350 crore rupees to NDTV in 2009 which the company used to repay the 375 crore rupees the media company has taken from ICICI Bank in 2008. The loan agreement gave VCPL an effective control of 52 percent shares of NDTV through various clauses. Under the agreement, Roy's gave 99.99 percent shares of RRPR to VCPL, which the company could claim at any time between 10 year loan period or after that. This gave VCPL claim at 26 percent NDTV shares and call option for another 26 percent share gave VCPL 52 percent effective control.
For the full detail on how VCPL come own 52 percent of NDTV read the following article :
After busting loan-power grabbing, SEBI directs VCPL to make offer to indirectly acquire 52% of NDTV
In 2017, CBI had raided houses of Prannoy and Radhika Roy and at that time the Roys made foul cry of attack on media freedom. The order by SEBI will strengthen the case of CBI and Enforcement Directorate (ED). CBI has already filed FIR which alleged that the Roys bought a house in South Africa by the diversion of 45 crore rupees from ICICI loan. The investigation authority is yet to file charge sheet in the case, the SEBI finding will enable ED to attach properties of the Roys under Prevention of Money laundering Act and could lead them to jail for a seven-year term.
The fact that NDTV is in deep trouble is not hidden from anyone and its problems are getting worse with each passing day and its political patronage is also not in power to help out. It is in a sad state today because of its agenda-driven journalism, prioritizing agenda over truth and vicious hatred for one particular party. Because of all these biases, its viewership has drastically decreased but still, they didn't learn their lesson and carried own with their anti-India and anti-Hindu propaganda. The alienation of viewers is clearly visible in their TRP ratings where it is on the last spot. If NDTV does not get its house in order, financially as well as qualitatively, the end might not be very far.