In the 2019 general elections, BJP led NDA recorded its highest ever tally in the state of Bihar. It won 39 out of 40 seats, the only seat the BJP led NDA lost was Kishanganj, a district with about two third Muslim population. The BJP led NDA won over 50 percent of popular vote in the state and all of this was possible due to the trust the electorates bestowed in PM Modi. In many constituencies, the electorates voted for the BJP led NDA even if they did not like the candidate or even the alliance partners. This also shows that an average Indian voter has matured over the period of time and now they can easily differentiate between state issues from those of national importance.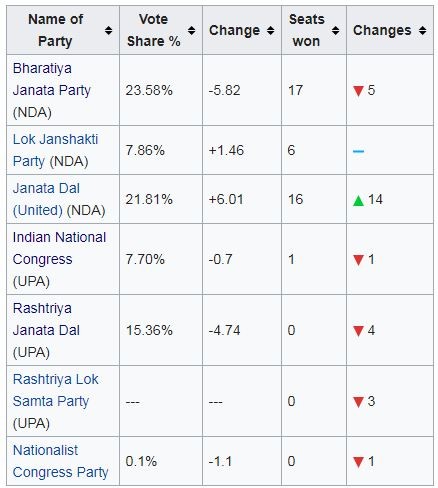 Source: Wikipedia
The result has thrown another interesting result and that is sinking popularity of Nitish Kumar, the ill-famed dal badlu chief minister of Bihar who changes alliances at the drop of a hat without deliving into the nitty-gritties of 'ethics and ideology', Any road that leads to the chief minister's chair is acceptable for Nitish Kumar.
The reign of Nitish Kumar in Bihar formally started in November 2005, prior to which he was the CM of the state for a mere 8 days in 2000. He completed his first term and was re-elected in 2010 and remained firmly seated on the chair, till May 2014 when he resigned as the chief minister as a 'owning responsibility' gesture after the severe drubbing his party got in the general elections of 2014. He handed over his post to Jitan Ram Manjhi, a carefully played move to cement his friends of the 'Mahadalit' image while saving the government at the same time. Before the general elections, he had broken the alliance with the BJP after Narendra Modi was announced prime ministerial candidate of the party in 2013. The 'opportunist' behavior of Kumar has been very much evident throughout his career. Like 'Congress party', he wishes to stay in power, no matter the cost.
He became the CM of the state again after 2015 Bihar assembly election which he contested in alliance with RJD, JDU's biggest political rivals. He collaborated with Lalu Yadav, who was once his arch-nemesis. But Nitish soon got frustrated of this alliance as well and he left Lalu to join NDA again in order to "strengthen PM Modi's crusade against black money and corruption". Lofty words! The popularity of Nitish Kumar took a hit and he came to be known as the eternal 'dal badlu' of Bihar politics. While he is famed to have brought 'Sushaashan' in the state but development still remains a far cry in the state.
So fa, he has ruled the state for 13 long years and Bihar continues to remain one of the poorest regions of the country. Good politicians and policymakers pine for continuity so that their state or region, Nitish got the same but development avoided Bihar. Nitish Kumar learned the first lessons of politics under the tutelage of socialist icon, Jayprakash Narayan and 'socialism' remains evident in his economic policies. Over the reign of 13 years, he has tried to distribute wealth and deliver public services rather than 'encouraging' creation of wealth. He has used the money given by 'central government' and that sent by 'migrant laborers' to distribute freebies to poor people rather than spending in infrastructure, industrial development and attracting 'services companies'.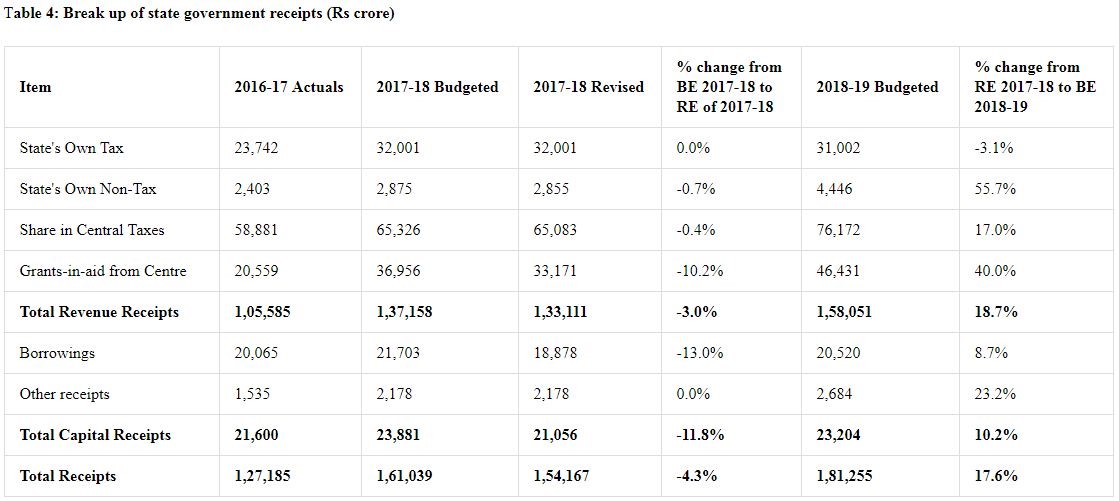 Source: PRS
As is clearly evident in the above image, out of 1, 81,255 crore rupees Bihar government received in FY 19, only 31,002 crore rupees or one sixth is generated from its own tax. More than two third of the money is share from central taxes and grants from central government. On the other hand, richer states likes Maharashtra generate almost half of it on their own. In fact, even UP generates more than 25 percent of the total revenue on its own.
The GDP of Bihar was 5.15 lakh crore (73 billion dollar) in FY 19. The state is on 15th position in the list of Indian states by GDP and on third in the list of states by population. The state is on the bottom in the list of the states sorted by per capita annual income with a paltry 42,242 rupees in FY 18 compared to 1,12,835 rupees of Indian average and 3,75,554 rupees of Goa in the same FY. Therefore an average Indian earns 3 times more than a Bihari and an average Goan earns 9 times more.
The state performs more poorly in direct and indirect tax collection. Bihar comes at 18 position in terms of direct tax contribution with a paltry 629 crore rupees compared to almost 4 lakh crore rupees of Maharashtra which has almost similar population. In fact, the contribution of Bihar declined from 652 crore rupees in FY 17 to 629 crore rupees in FY 18.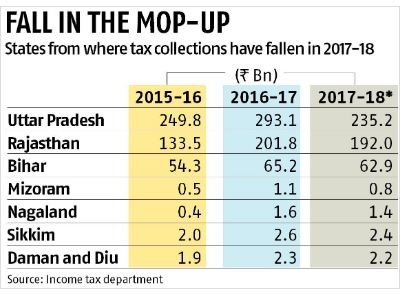 Source: Business Standard
Bihar is among the states with highest percentage of population below poverty line. In 2013, 33.74 percentage of state population was living below poverty line compared to 21.92 of all India average. This means that almost one third of Biharis are still living below poverty line compared to one fifth of the Indian average. Majority of the population in the state are still employed in Agriculture. Industries and services companies don't prefer the state due to 'law and order' problems and the lackluster attitude of state government.
If we compare the performance of Nitish kumar with former MP CM and BJP strongman Shivraj Singh Chouhan, we get to see the difference a good administrator brings to the table and how wealth creating policies can change a state's fortunes. Chouhan received an award from the then president Pranab Mukherjee under UPA government for turning around tourism, medical and infrastructural sectors in the state. The tenure of Chouhan matches with that of kumar, both started in 2005 and so far have ruled for almost 13 years. In 2005, both states were underdeveloped, law and order situation was equally poor and both were a part of the dreaded BIMARU states club. The GDP of Madhya Pradesh in FY 19 is 8.26 lakh crore rupees (120 billion dollars) compared to 5.15 lakh crore rupees (73 billion dollars) of Bihar. Therefore the GDP of MP is almost 60 percent more compared to Bihar despite having almost half the population. The per capita income of MP is 79,907 rupees per annum compared to 40,000 rupees of Bihar. The per capita income of MP is almost double of Bihar despite the fact that both states started at similar numbers in 2005.
The delivery of welfare policies of state and central government in Madhya Pradesh is very efficient compared to Bihar. The social welfare schemes launched by Modi government like Swachh Bharat Abhiyan, Ujjwala Yojana LPG gas connection, Saubhagya Yojana electricity connection witnessed best implementation under Chouhan. The state built highest number of houses PMAY (G), these houses are equipped with all basic amenities like toilet, LPG connection, electricity connection, LED bulbs, fans and clean drinking water. It improved ranking across the metrics of health and education. All this was done despite the fact that state gets less grant from central government as compared to Bihar.
The performance of Nitish Kumar comes across as extremely poor when we compare that with Chouhan. Nitish Kumar just tried to deliver welfare to 'appease' particular communities instead of working towards industrialization and attracting investment in the state. There is no doubt that 'welfare' increased under Nitish Kumar but most of it was done from the money of central government (grants) and the contributions from migrant Bihari workers. Being true to his 'socilaist' ideals, Kumar did not take any steps for wealth generation. The investment in big infrastructure projects or industries is negligible. The Nitish Kumar model is not 'sustainable' as a state cannot live on central government's grants forever. 
From 2019 general election verdict, it is very clear that the electorates love PM Modi. It was in his name that LJP and JDU registered impressive numbers too. It's time for the BJP to take control in its own hands and stake claims for the Chief Minister's chair. JDU can opt to stay in or out of the government but what Bihar needs is a Shivraj Singh Chouhan. Decades of socialism has completely ruined this state which represented the very best of India in times of yore. Bihar has everything – excellent manpower, great connectivity with rest of India and a young population that wants to shed the tag of being the residents of a BIMARU state.