It seems that lack of geographical knowledge in Pakistan is like a communicable disease spreading quickly among the state officials and Imran Khan was its latest demonstrator. About a year ago, Pakistan's former National Security Advisor (NSA) Nasser Janjua had made a blunder along the same lines, which has now resurfaced after the Imran Khan faux pas.
India needs Pakistan for accessing European market: former Pakistan NSA Janjua.

Janjua also went to Oxford? ? https://t.co/lx1xzluZbg

— Naila Inayat नायला इनायत (@nailainayat) April 23, 2019
NSA Nasser Janjua, at a regional conference on 'Connectivity and Geo-Economics in South Asia' had said that India must maintain a relationship of respect with Pakistan as its burgeoning economy needs access to the markets of Europe via Central Asia and Pakistan is the only country which could provide this. According to him, India cannot access the markets of Europe without the neighboring hostile country. Pakistan, he said, is the only country which could provide India with the access it truly desired.
This is just as strange as Imran Khan's belief of Germany and Japan sharing a border, with no possible explanation.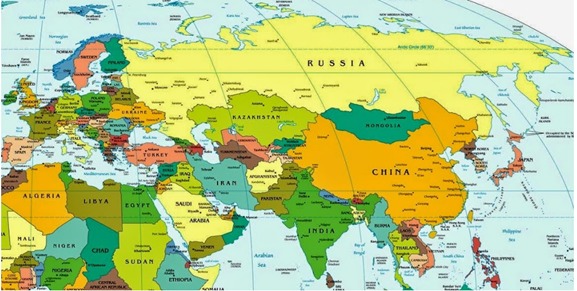 The only country that Pakistan connects India to, is, Afghanistan; which isn't in Europe but in Asia. Nevertheless, India considers trade with Afghanistan important enough and hence in its pursuit of hassle free trade, India has made arrangements to not involve its notorious neighbor in its exchanges with Afghanistan. India, Afghanistan and Iran have together developed the Chabahar port in Iran, for trade purposes, eliminating Afghanistan's dependence on Pakistan for trade. Since the terror country, in its hostility, denies the use of its territory by Indian trucks bound to Afghanistan, the Chabahar Port has come out to be the most viable route. Moreover, the port is operated by the India Ports Global Private Limited (IPGPL), which makes the trade quite convenient.
Apart from the direct land connectivity to Afghanistan, which is overcome by the maritime trade route via Iran; Pakistan provides no connectivity with Europe. Trade with Europe requires sea and air transport, something India is very much capable of carrying out, without any role for Pakistan to play in it. Former Pakistani NSA stated, "India cannot trade with this part of the world without Pakistan on board,", further adding that the 'bitterness of the past should be overcome'.
Pakistan ironically wants India to 'overcome the bitterness of the past' but what about the on-going bitterness? Pakistan continues to sponsor terror in this country, in attempts to destabilize and occupy the Indian state of J&K, and refuses to extradite or ban globally recognized terrorists, while providing them safe havens in its territory.
Now, in their imbecility, they believe, or rather, they choose to believe that we need to 'play nice' to have the liberty to trade. The NSA should know that Pakistan does not have anything that gives them an upper hand over its neighbor. Pakistan is undergoing a major trade deficit currently, and in order to continue with their imports, they desperately require loans from IMF and World Bank. However, with an increase in their sponsored terror activities, they have been grey listed by the FATF and in all probability, they will be black listed by the next month. This will make it almost impossible for the terror country to get loans from international organizations. Thus, instead of advising India, they should probably concentrate on their own trade, for their own good.