India has taken a great leap forward in digitization since the Modi government came to power. The number of smartphone users is growing at an explosive rate and data consumption, mobile download speed, broadband subscription (mobile and fixed) have registered a significant jump. A report published by McKinsey & Company, the largest and most prestigious management consultancy firm, declared India as the second fastest digitizing economy in the world. The report prepared by McKinsey Global Institute is titled as 'Digital India: Technology to transform a connected nation' and it said that "Indian consumers have strongly embraced digital technologies. Now India's companies must follow suit."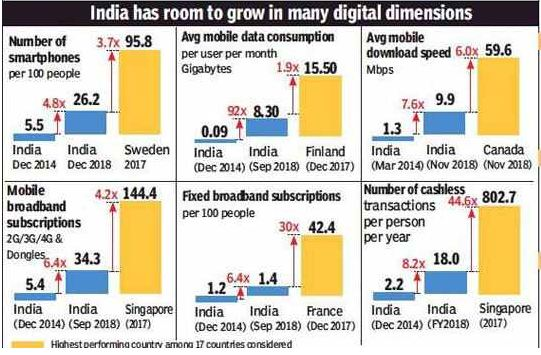 As per the report, India is among the top two countries globally on key dimensions of digital adoption and this great leap is led by both public and private sector efforts. The government's effort to give a unique identity to every citizen through Aadhar provided the base for digital technology to thrive. With 1.2 billion enrollments, India is number 1 globally in terms of providing a unique identity to citizens. In terms of total internet users, India with 56 crore users is only behind China. The country has 35.4 crore smartphone devices and 29.4 crore social media users. As of December 2018, 26.2 percent of the country's population uses smartphone compared 5.5 percent in December 2014. The number of smartphone users grew 5 times in the last four years.
The average mobile data consumption grew 92 times in less than four years. The data prices crashed after the entry of JIO and the country has the cheapest data price in the world. The average data consumption per user per month was 0.09 Gigabytes in December 2018 and increased to 8.30 in September 2018. Average India spends 17 hours a week on social media which is more than China and the United States. The average mobile download speed has increased by 7.6 times form 1.3 Mbps to 9.9 Mbps. The mobile broadband subscriptions through 2G/3G/4G dongles increased by 6.4 times between December 2014 to September 2018 and fixed broadband subscriptions increased 1.2 per 100 people to 1.4. The number of cashless transaction per person per year increased by 8 times from 2.2 to 18 between December 2014 to FY 2018.
The digital economy would create 6 crore jobs in various sectors like construction, manufacturing, agriculture, trade, hospitality, finance, media and logistics by 2025. The explosive rise in internet users will drive the digital economy. As of now core digital sectors contribute 170 billion dollars or 7 percent of total GDP with 115 billion from IT-BPM, 45 billion from digital communications, and 10 billion from electronics manufacturing. The size of the industry would increase to somewhere between 355 billion dollars to 435 billion dollars or 8 to 10 percent of country's GDP by 2025. According to report, "value-added contribution in 2025 could range from $205 billion to $250 billion for IT-BPM, from $100 billion to $130 billion for electronics manufacturing, and $50 billion to $55 billion for digital communications."
The great leap forward by the digital sector is a result of the public as well as private sector efforts. The foundation for the growth of the digital sector has been laid and its growth will help the Indian economy to achieve double-digit growth.