The tremendous achievement of Mission Shakti by Indian scientists has rendered the international community sour. By launching the A-SAT missile on Wednesday, India has put itself on the exclusive list of space superpowers alongside just 3 other nations, USA, Russia and China. This has led to a lot of anxiety among international organizations who view this achievement as a threat. India has proved to be self-sufficient to protect itself on all frontiers, land, water, air and now space.
No doubt green with envy, there are certainly entitled organizations which in an effort to belittle India, have succumbed to faulty journalism. The New York Times, an esteemed publication, from its official Twitter account, wrote, "India's prime minister announced that India had shot down a low-orbit satellite with a missile in a test. If confirmed, a successful missile test would put India in a small club of countries that have proved their ability to destroy targets in space."
India's prime minister announced that India had shot down a low-orbit satellite with a missile in a test. If confirmed, a successful missile test would put India in a small club of countries that have proved their ability to destroy targets in space. https://t.co/ickwrio7QR

— The New York Times (@nytimes) March 27, 2019
The entire international community has paid head to the Mission Shakti, wherein India successfully launched an anti-satellite missile and destroyed a satellite of its own. This tweet comes after the USA, China and Pakistan have already released their official statements. The counties have worriedly acknowledged the tests.
The use of the term "If confirmed" is highly absurd. This technological leap has been confirmed by the Pentagon, so it's unclear what further confirmation does New York Times desire.
Such a sullen reaction from the esteemed media organization is unsurprising, considering the type of cartoons New York Times published in the past. In 2014, when India had successfully put the Mangalyaan into the Mars orbit, the newspaper has published a very derogatory and racist cartoon in their issue. Instead of lauding India for its achievement, as an unbiased media organization would have, the New York Times sneered the countrymen and its cows- the holy animal, portraying India in a very bad light.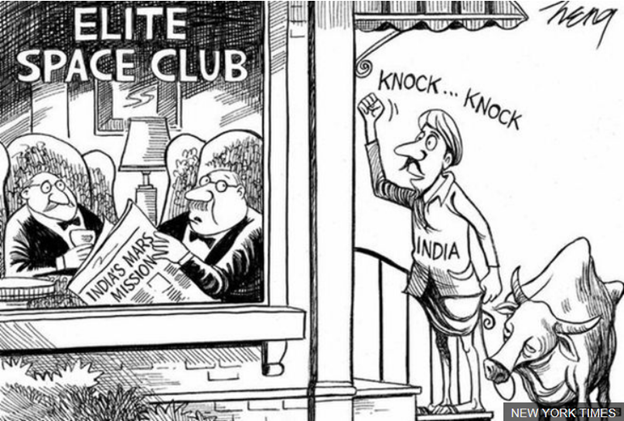 India succeeded in putting the Mangalyaan robotic probe into orbit in its first attempt – an achievement that eluded even the Americans and the Soviets. In their enviousness, unable to cope up with India's development, NYT forgot its ethics and succumbed to racism.
A few years later, ISRO achieved another milestone.  104 satellites were sent off into space on one rocket, in one go. The laudable feat was celebrated by TOI in a scathing cartoon that is a befitting reply to NYT.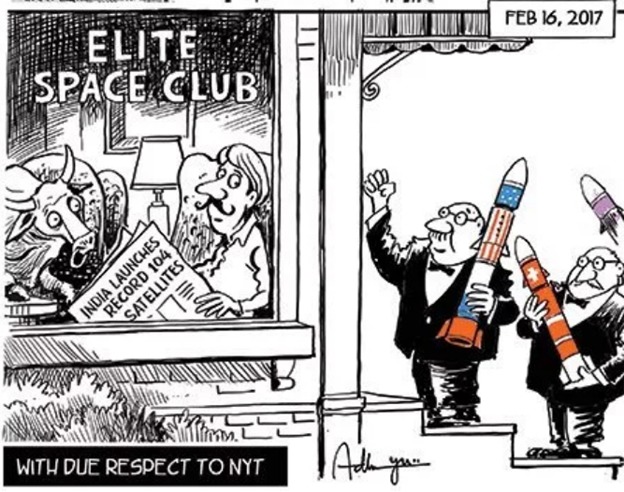 Moreover, several citizens had also come out with their own form of humorous depictions, targeting NYT.
— ANIL YADAV (@anilparham) March 27, 2019
Once again, it's the citizens to the request. In an effort to protect the sovereignty of the nation, the Twitterati have come out condemning the tweet. Indians have hit back with their comments:
If "confirmed?" Who is it that you are expecting confirmation from NYT? Thanos?

— Venkatraman Ganesan (@venky1976) March 27, 2019
1. Prime Minister is with capital P and capital M

But we learnt British English here so what do I know

2. Please do give us an update once you've confirmed :)

— Chowkidar Akshay Karanjkar (@ManUtdRon) March 27, 2019
Who is supposed to confirm ? Mueller ? Barr ? NYTimes ? It doesnt matter if none of these say or dont say anything. Our scientists confirm.

— suranga date (@ugich) March 27, 2019
If confirmed?
The PM of the largest Democracy of the World @PMOIndia has made a Statement!
Confirm what? & from Whom?
Our guys @isro are Neighbour's Envy……..India's Pride!
Rocking Stuff!!

— Vikram Vashisht (@VikramVTweeting) March 27, 2019
So are you jealous? LOL! Wait for few more years and USA dominon in space will demise, and it will be done not only by India but also by many elite countries!

— ?Prerit Das ?? (@DasPrerit) March 27, 2019
Not say – "If confirmed"
It is absolutely confirmed.

Why u write entry in a small club.
It is an "ELITE CLUB"

clean ur glass and mental frame.

— Chowkidar Surya Prakash (@sparya82) March 27, 2019
I am proud to our Country India and our Hon'ble Prime Minister @narendramodi Mr. Narendra Damodardas Modi ji to execute 'Shakti Mission' successfully. I salute you ISRO.

and most important thing is that "It is confirmed" Mr. @nytimes

— Sachin Khare (@SachinK54911970) March 27, 2019
If confirmed?Mean??Really shameful.Have you not seen the live telecast of our Great PM Modi's speech regarding missile hit the satellite.We made a world record of 104 satellite launched in a single flight and we are the first county to send a satellite in MARS in a first attempt

— Chowkidar Deepak Singh Bisht (@Deepak_Bisht123) March 27, 2019
There is no if and but..it is 1000 times confirmed…very proud of our @DRDO_India, our great scientists and our courageous PM @narendramodi India has such a huge potential where nothing is impossible… proved yet again….#MyCountryMyPride

— Chowkidar Neelima (@neelima1in) March 27, 2019
And now 2019?✌️? pic.twitter.com/YZ0P6KlcQC

— Ajeet Dubey (@AjeetKu21623736) March 27, 2019
New York Times better release an apology statement for its faulty journalism. But until then, India has its citizens to save the day.