"The rise & rise of Piyush Goyal – scourge of the IAS, go-to man for PM Modi & Amit Shah" screams a headline on leading left-liberal portal 'The Print'. The article after making scores of baseless allegations against Rail and now interim Finance Minister Piyush Goyal concludes that Train 18 – first indigenously-built, engine-less high-speed train will soon be flagged off from Delhi to Varanasi, the PM's constituency — a route already served by 69 trains (sic.).
We decided to do a little fact check and here is what we came across: This is the list of trains from Delhi/New Delhi/Anand Vihar to Varanasi received from Main Terminal.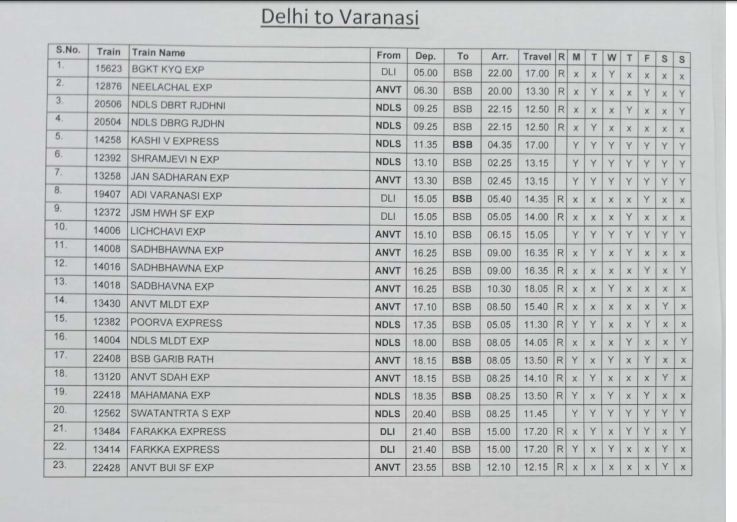 As it is amply clear from the table above, only 23 trains operate between Delhi and Varanasi and not 69 as claimed by 'The Print'. So how did The Print conclude that there are a total of 69 trains between New Delhi and Varanasi?
They assumed that if a train so much as passes 'via' a station, it becomes a train specific to that particular station. Wrong assumption. That's not how trains function. If a train departs from Delhi and reaches Howrah via Varanasi, it doesn't become a Varanasi special train. It simply remains a Delhi-Howrah train that passes through Varanasi. So, there could be a total of 69 trains passing via Varanasi, only 23 of them are specific to Varanasi.
Now let's dig a little deeper into the 'route' part. Will train 18 take the same route as the other 69 (which we have already debunked above)?
Short answer – NO. Trains that stop at Deen Dayal Upadhyay station do not pass via Varanasi. These trains take a separate (main) route. Train 18, however, will take an entirely different route.
Look at the map below:
The trains that stop at Deen Dayal Upadhyay station have been marked in blue and the Train 18 route has been shown in saffron. So, The Print's assumption that Train 18 is just another train in a clogged route is completely baseless.
It seems like The Print is following in the footsteps of another left-liberal propaganda portal, The Wire, which have targeted Minister Piyush Goyal with shoddy hit-jobs. Despite the sustained campaign against Minister Piyush Goyal by the left-liberal media, he has continued to serve the nation and has provided an excellent administration in whatever capacity he has served. Recent Carnot Prize is a testament to his work the recognition of it.