As per the Google Trends data, the popularity of PM Modi has increased exponentially across the globe. He has attained enormous popularity in regions like the Middle East, Nepal, Bhutan and a South American country Bolivia. As per the data, he is the second most searched leader among 20 most populous countries, behind Donald Trump but ahead of Vladimir Putin, Angela Merkel, Theresa May, and Emmanuel Macron. The number of people searching about PM Modi across the globe is suggestive of his increasing stature as a world leader. It also reveals the growing interests of the nations across the world in India and its leadership.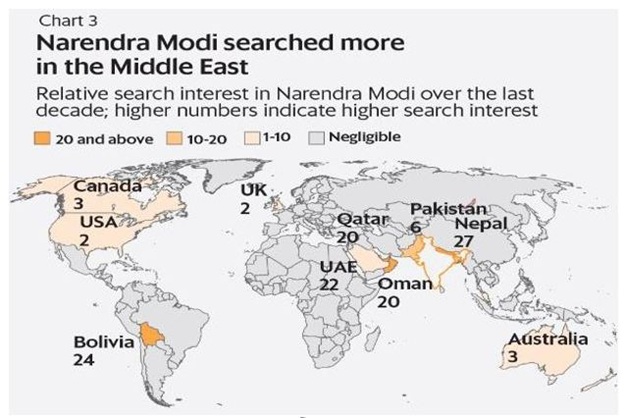 PM Modi has been receiving many global awards and praised by political and corporate leaders across the world. Prime Minister Narendra Modi and French President Emmanuel Macron received United Nation's highest environmental honour, 'Champions of the Earth' award. They were recognised in the 'Policy Leadership Category' for spearheading and making immense contributions in championing' the International Solar Alliance and "new areas of levels of cooperation on environmental action."
A few months back, PM Modi became the first Indian politician to receive the Seoul Peace Prize. He was awarded this prize for raising economic growth and accelerating the Human Development of the people of India. The recipients of the Seoul Peace Prize who have gone on to win the Nobel Peace Prize include names of people and organizations such as Doctors Without Borders (1996 SPP, 1999 NPP) and Bangladeshi entrepreneur, Dr. Muhammad Yunus (2006 SPP, 2006 NPP), the founder of Grameen Bank.
The number of internet users in the country has grown exponentially in the last few years. The country had just 18-19 million internet users when the Modi government came to power but it has grown to 512 million in the last four and a half years. This is a jump of 300 percent in tenure of a single prime minister. The growth in the number of smartphone and internet users has played an important role in revealing choices and interest of the people. The social scientists increasingly use searches data to take note of the political choices of the people. The difference in Google searches for PM Modi and Congress president Rahul Gandhi in the country tells about the difference in stature of both the leaders. On the domestic front, the searches for PM Modi can be correlated with his meteoritic rise on the political landscape of the country. Searches about him started growing since 2012 and attained its peak at the time of demonetization. The Google searches for Rahul Gandhi has also grown since he became the party president.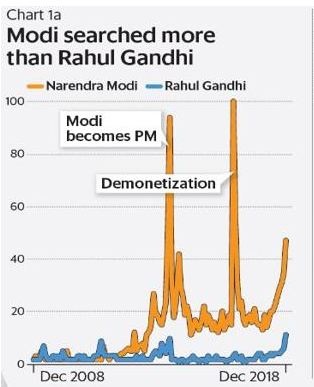 The popularity of PM Modi has increased in the last four and a half years in the country as well as outside the country. This fact also debunks the myth spread by the left-liberal cabal that Modi magic is over. The data suggests that Modi magic is far from getting over on the domestic as well on the global front.