While hearing a petition against the refusal to issue a domicile certificate to an Army recruit, Justice SR Sen of Meghalaya High Court made some explosive observations, in Shillong on December 10. In the 37 page long judgment, Justice Sen raked up the issue of citizenship for refugees fleeing to India from neighboring countries ever since partition of India took place. Justice SR Sen, born on 9th March, 1957 in Shillong, is a permanent judge at the Meghalaya High Court.
He observed that the difficulties faced by residents to get the Domicile Certificate and the Permanent Residence Certificate have become a great issue today. Asserting the need to look at it in the context of partition, he further added "I will fail in my duty if I do not project the original India and its partition."
"It is an undisputed fact that at the time of partition, lakhs and lakhs of Sikhs and Hindus were killed, tortured and raped and forced them to leave their forefathers' property and compelled them to enter India to save their lives and dignity" he said.
Emotionally and without mincing his words, he went on to state, "Pakistan declared themselves as an Islamic country and India since was divided on the basis of religion should have also been declared as a Hindu country but it remained as a secular country." He further observed that till day, Hindus, Sikhs, Jains, Buddhists, Christians, Parsis, Khasis, Jaintias and Garos are tortured in neighbouring countries like Pakistan and Bangladesh and have no place to go and "those Hindus who entered India during partition are still considered as foreigners, which in my understanding is highly illogical, illegal and against the principle of natural justice." Justice Sen also observed that the independence of India was negotiated in a hurry without considering the future generations and the interests of the country and that the Boundary Commission did nothing but draw an imaginary line to divide India into two pieces.
He also said that "India achieved independence through bloodshed and the worst sufferers were the Hindus and Sikhs who had to leave their forefathers' property, birthplace with tear and fear" and insinuated that rehabilitation of Sikhs was largely done, but that of Hindus was not.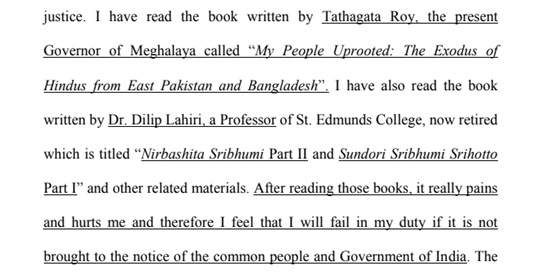 He quoted Tathagata Roy, present governor of Meghalaya from his book on the exodus of Hindus after the partition of Bengal to back his view on the issue and further in the judgment he asserted the need for a law to be brought by the Government of India to allow the Hindus, Sikhs, Jains, Buddhist, Parsis, Christians, Khasis, Jaintias and Garos who have come from Pakistan, Bangladesh and Afghanistan to be given citizenship promptly. This view is partly on the lines of the The Citizenship (Amendment) Bill, 2016 introduced by the government in Lok Sabha. He further mentioned that "laws are made for the people and people are not made for laws and it is also a fact that now laws can be effective until and unless the history and real ground reality is taken into consideration."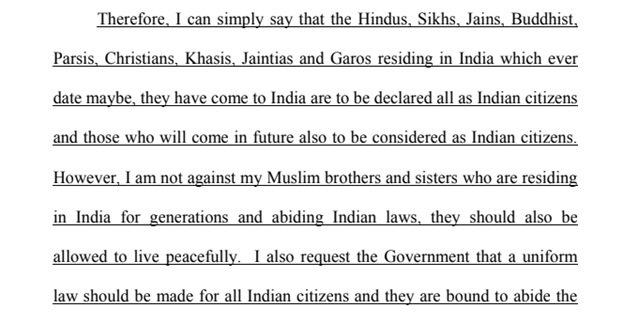 The Honorable Judge also called for Uniform law for all citizens or the Uniform Civil Code as is known from Article 44 of the Directive principles of the Constitution specifying, "The State shall endeavor to secure for citizens a uniform civil code throughout the territory of India."
On the matter of ethnic rivalries in the northeast and language based divisions between Assamese and Bengali speaking people, he said, "I appeal to all the Hindu people of both the Barak Valley (a Bengali majority area of Assam) as well as the Assam Valley to come together to find an amicable solution because our culture, traditions and religions are same. We should not hate each other just on the basis of language." He further observed that the ongoing NRC process in Assam is defective, saying "NRC process in my view is defective as many foreigners become Indians and original Indians are left out which is very sad."
Finally, he stressed, "I make it clear that nobody should try to make India as another Islamic country, otherwise it will be a dooms day for India and the world. I am confident that only this Government under Shri. Narendra Modiji will understand the gravity, and will do the needful as requested above," and hoped that Chief Minister Mamata Banerjee will also "support the national interest in all respect."
The judgment ended with Justice Sen of Meghalaya High Court requesting that a copy of the judgment be taken to the Prime Minister, Home Minister and Law Minister, pointing that "This Court expects that Government of India will take care of this judgment in the historical background and save this country and its people."