After the first meeting of the Follow-up Committee for the implementation of the trilateral Chabahar Agreement between India, Afghanistan and Iran, India took over operations at the Shaheed Beheshti Port at Chabahar.
India Ports Global Limited company opened its office and took over operations in the strategically crucial Chabahar Port in Iran, which will allow India to bypass Pakistan and transport goods and supplies to Central Asia and Afghanistan. This will cut transport costs and time for transport of Indian goods by a third, and bolster India's bilateral trade with many countries in the region, including Afghanistan and Iran. Pakistan has denied transit access through its soil, to India for trade with the two countries, virtually blocking India's land access to West Asia and Central Asia.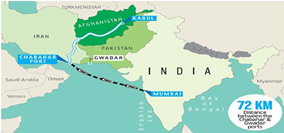 The Chabahar Agreement was signed in May 2016, as a trilateral transit agreement, between India, Iran and Afghanistan. Prime Minister Narendra Modi's had been the first Indian Prime Minister to visit Iran in 15 years. Through the Chabahar Port, India can transport supplies via land to Kabul and other cities in Afghanistan. This will act as a major boost for India's foreign policy in Afghanistan whose government is struggling with a strong presence of the Taliban which threatens over 70 per cent of its land area. US troops in Afghanistan will also benefit as their supply routes from Pakistan are jeopardized and uncertain ever since the USA changed its treatment of Pakistan. The Chabahar port is also crucial as it will, under the International North-South Transport Corridor, provide for an alternative route for India to access Central Asian Countries and even Moscow and Europe through the Caspian Sea slashing time and costs by about 40 per cent.
Chinese owned Gwadar Port in Pakistan and Chabahar are less than 100 kilometres apart and open into the Arabian Sea. With China taking over the Gwadar Port it was crucial for our country to have a counter presence in the region which the Chabahar Port shall provide. For its strategic value, the United States also exempted India from Sanctions at the Port.
India's bilateral relations with Iran have made new highs in the wake of sanctions against Iran which threaten its economy. India has been one of the very few countries who continued trade with Iran despite fears of sanctions on India as per USA's CAATSA law. With the Chabahar port, our country shall be in a position to protect the interests of the United States in Afghanistan along with its own. Ever since operationalization of Chabahar, unconfirmed reports suggest that traffic from Karachi is already being diverted to Chabahar. It is a major victory for India's foreign policy in the region which had earlier been reduced to a stagnated version of itself.