Pakistan has finally decided to apply for bailout package from International Monetary Fund (IMF).  "We may approach the IMF for support to the country's financial problems," said Pakistan's newly elected Prime Minister Imran Khan. Public finances of Pakistan have been completely messed up in last few years. The foreign exchange reserves of Pakistan at the end of September are only 8.4 billion dollars, enough only to cover imports till end of this year. The previous government did not care for macroeconomic stability to win the election and begged for alms to China whenever conditions deteriorated. "We have inherited a difficult situation where you have a fiscal deficit which shot up by about 2.5 per cent over target in the last financial year, and where the monthly current account deficit is more than $2bn. This is not sustainable," said Asad Umar, finance minister of Pakistan on Monday.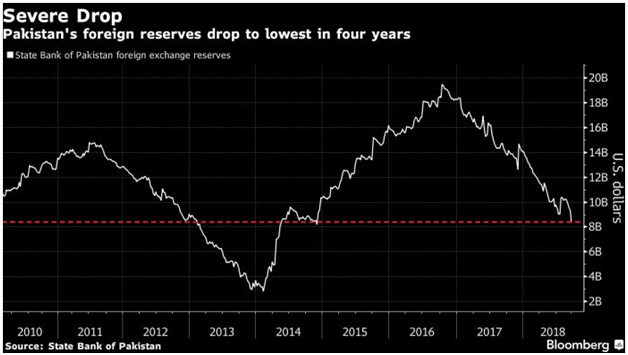 The economy is growing but imports have increased at a faster pace while exports are stable. Pakistani government has decided to go to IMF after Saudi Arabia denied its request for delay in payment of oil bills. Instead, Saudi offered to develop an oil refinery on Gwadar port which is being developed by China under China Pakistan Economic Corridor (CPEC) project.  Now the only option left with Pakistan is either to go China or IMF for support. IMF is ready to support, Maurice Obstfeld, the fund's chief economist, who sees Pakistan as member of 'good standing' which is fully entitled to financial support. "Pakistan is suffering from a number of imbalances: a very large fiscal imbalance, a large current account imbalance, they also have low level of reserves and a currency that is too rigid and overvalued," said Obstfeld at the IMF's annual meetings in Bali.
The civil servants in Pakistan have designed a plan for Pakistan to seek 12 billion dollars bailout package back in the initial months of this year. Pakistan has to promise deep structural reforms to seek bailout package from IMF. This would include cuts in government spending, rationalization of subsidies, devaluation of currency etc. Imran Khan promised a 'Islamic welfare state' to people during elections therefore going for a cut in government spending would be really hard for him. Another thing IMF may seek is to bring transparency in 'Military Business (Milbus)' of Pakistan. A large number of businesses in Pakistan are controlled by former employees of Military, these businesses get government deals through their cronies in the government. Imran Khan has called IMF as 'last resort' for Pakistan for financial support which means he does not want to explore the Chinese option. This also means that Khan is ready to agree on these reforms which could be a political toll for his party.
The path of Pak still does not look easy as US has warned that it does not want to see a single penny of IMF money "go to bail out Chinese bondholders or -China itself." Pak has taken huge loans from China to import the products required for completion of CPEC, these imports were a major reason behind depletion in foreign reserves of Pak. United States is opposed to CPEC and therefore it does want see IMF money being used for interest of CPEC or China. America is majority shareholder in IMF and therefore the global lender must follow its diktat. Even if Pak get a bailout package from IMF, this does not mean its financial condition will necessarily improve, because in many cases in Sub-Saharan Africa, bailout packages actually worsened the situation. The 12 billion bailout package would be 13th and largest from IMF to Pakistan since 1947 which means the conditions did not improve from the previous 12 bailouts. Therefore, the chances of Pakistan getting a bailout package and the economic conditions to improve are very thin.