There is a long held perception that the Congress party plays appeasement politics to woo Muslim vote bank. After analyzing seven decades of its appeasement to Muslims and its impact on society, we came to the conclusion that it does not appeases the Muslim masses but the upper caste (yes, Muslim society is deeply caste-ridden), upper class Muslims which is constituted of Ulema, Imam and the section of people who have considerable influence over society. Rajiv Gandhi upturned the SC verdict on Muslim women's right to alimony in Shah Bano case to appease this upper-caste, upper-class, ultra-orthodox section of society. So, the Congress' appeasement to Muslims was appeasement to this 1 percent section of Muslim society.

The socio-economic status of Muslims in the country after seven decades of Congress appeasement is terrible. Let us start from population. The population growth in Muslims is highest among all communities of the country, which reflects the lack of education and family planning in Muslim population. The fertility rate among Muslim is around 3.5 while for general population it is 2.5. This means on an average, Muslim women bear one more kid than general population. The Muslims of southern states are literate, so the fertility rate is low there and it is highest in northern states because literacy is low. This also suggests that high fertility rate is due to lack of education rather than being a cultural factor, contrary to the popular perception. The rate of malnourishment is highest among Muslim children after SC/ST while rate of stunted children is highest, more than even SC/ST.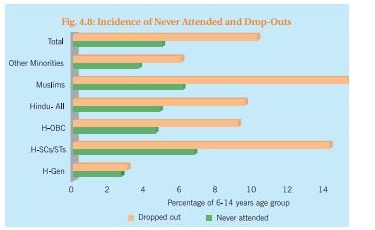 Now, coming to the educational achievements, the Muslim community fares worse despite thousands of Madrasas in the country. The literacy rate among Muslims is comparable to SC/ST population of the country. The literacy rate among Muslims is 68 percent while for general population it is 73 percent. The percentage for children of 6-14 who never attended school is 4.4 percent for overall population while 8.7 percent for Muslim, almost double the national average. The dropout rate among Muslim children is highest which results in very low percentage of Muslim graduates. The gap between Muslims and other communities widens as we move upside on the ladder of educational attainment.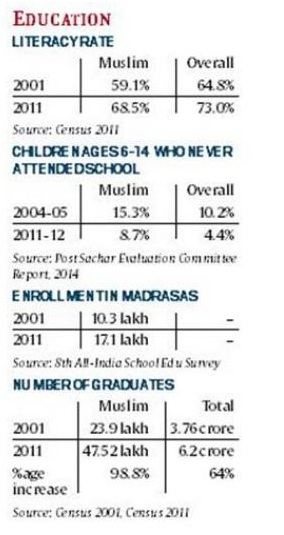 So, there is a vicious cycle in which illiterate parents procreate more kids and these kids remain underweight and malnourished due to low income. The low income of parents takes away kids from education and these kids repeat the same. Interesting thing is that this vicious cycle is continuing for seven decades despite the image of Congress being a Muslim friendly party.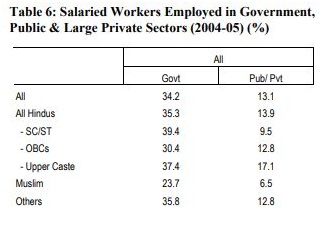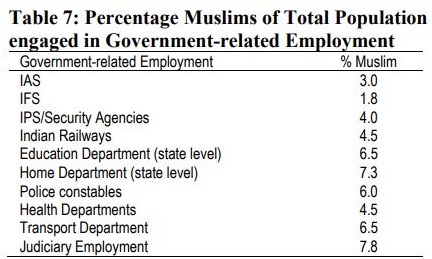 The income of Muslim families is very low. In urban areas, female worker participation rate is good for other communities but it is lowest for Muslim population. This is also due to the fact that uneducated Muslims are easily influenced by the diktats of Imams and Ulemas who stand against women participation in modern formal workforce. The number of salaried workers in formal public and private sector jobs is lowest in Muslim community. Representation of Muslim community is also very low in high level government jobs like civil services, judiciary etc. The low participation of female workforce, low formal employment among male workforce, low representations in bureaucracy, judiciary and government power structure hurts the income and economic prospects of the Muslim population.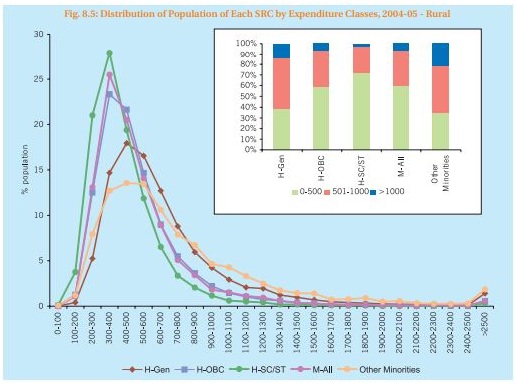 Due to poverty, consumption among Muslim population is very low leading to substandard standard of living. According to NSSO data, overall 22.7% of India's population was below the poverty line in 2004-05 (251 million people), with SC/STs together as the worst off group (at 35%), followed by Muslims at 31%. In 2009-10, monthly per capita spending of general population was 1,128 rupees while for Muslims it was 980 rupees, almost 10 percent difference. The interesting fact is that poverty in Muslim community is worse in states ruled by left parties like West Bengal rather than in states with right-leaning economic outlook like Gujarat.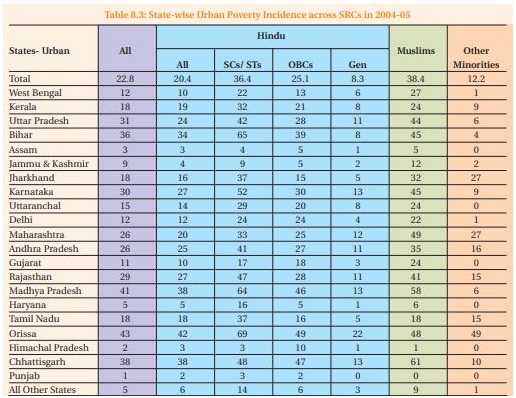 According to the data, in its seven decades of appeasement politics, Congress has done very little for the Muslim community. However, any solution involving quota or reservation for Muslim community would not be a viable alternative because it will further skew the equation in favor of top 1 percent who already benefitted from Congress' appeasement politics. For the betterment of society, without the ills of appeasement, economic growth is the best path forward. Welfare schemes which target the poor rather than targeting a community would also be helpful in alleviating poverty among the Muslim community. The Muslim community is better off in Gujarat due to economic growth and general welfare policies not community driven quota system which could achieve nothing in terms of alleviating poverty for the entire community.