The breaking India brigade has coined a new idea for the country- united states of south India. The so called tolerant liberals who ask for cooperation and a welfare state, where rich and able should produce wealth for themselves as well as for poor and weak could not tolerate the fact that the South India is paying more taxes and gets less from centre in return. The left-liberal magazines like Caravan, Frontline and many other newspapers and websites have debated the idea in recent days. Historians like Rmachandra Guha are arguing strongly for it because they have nothing new to do, they never come with new ideas, what they do is to read 10 books on a topic and write 11th one with liberally quoting from other writers and leaders who have worked on the topic.
The problem with these intellectuals is that they examine everything with a linear and narrow perspective rather than taking holistic view of any idea. The linear view to examine society comes from Marxist ideology. Marx views history as linear process where society progresses from being feudal to capitalist ultimately leading to a stateless society. The linear examination where you examine society on one variable while keeping other constant leads to dangerous and misleading outcomes. The same happens with Indian intellectuals, they are taking a single variable which is economic productivity to argue that southern states should form a union. The other variables like defense, workforce required for economic productivity has been kept constant. They ignore the fact that any polity adjusts itself according to the needs of the country and different regions take the responsibility of things what they are best at.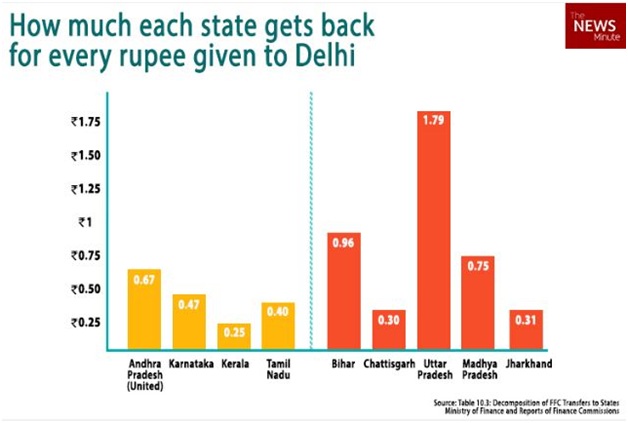 People from some region could be good in technology, some other good for defense, some could be good in agriculture so on and so forth. India progressed in same manner as a unit. Let's not go back to the history and examine this from the arrival of British. At the time British arrived in Bengal, most of businessmen in the region were Mrawaris from modern day Rajasthan. British expanded themselves throughout the country and the freedom movement started primarily in modern day Punjab, Bengal, Maharashtra but the freedom fighters never asked for freedom of particular region, it was for whole India. Southern states got better deal from British because there was relative peace in the region and for new industrial economy and trade, the southern part of the country was better.
When India was primarily an agricultural economy, the Indo-Gangetic plains were most productive but with change in the course to industrial and service sector economy, the coastal areas and southern part became more productive. They created an ecosystem for industrial growth taking advantage of geographical location, the northern parts started adjusting to changing environment and ecosystem changed there. The northern states send more people in armed forces, government jobs, bureaucracy and provide cheap migrant labor force to the western and southern part of the country. More than half of armed forces are constituted from the people of UP, Punjab, and Haryana.  When in 2008, north Indian were being attacked in Maharashtra on the native chauvinism of Raj Thackeray, the industries were hit badly due to exodus of migrant labor. Losses resulting from the exodus were estimated to be Rs. 500 – 700 crores. And guess who were the people running these industries in Maharashtra, most of them were Gujarati and Marwari businessmen. The cab drivers in Bangalore and house makers in Kerala are north Indians. The labor force for industries in Tamil Nadu comes from Odisha. Any kind of native or 'people of the soil plank' will be dangerous for society as well as for the economy.
If we go deep into study on why southern and western part of the country pays more taxes we find that it is just obvious. Suppose a foreign country want to start its operations in India or make an investment in the country because it expects a good return on investment due to growing economy. Now the company or investor will look for a place where business ecosystem is already created and other companies are already carrying out operations. So India as a country is decided as an investment destination, not Gujarat or Karnataka, they are secondary process in the step. If someone wants to start a new IT company then s/he will move to Bangalore because there you could hire thousands of freelancing programmers within hours. Similarly if government has to invest money in sports to make the country a sport powerhouse, it will go to Haryana or Northeast because  ecosystem for sports already exists there and return will be more in investing in Haryana than in Kerala. Now if Haryana starts asking for separate listing in international ranking because it bring many times more medals than any other part of the country, this would be laughable if anything.  So, this is natural pattern in the development of any country, arguing anything against it like opposing the process.
If we examine purely the economic perspective on how society and regions of a country readjust themselves as per changing conditions, then also we find that the north vs south debate is stupid. Take the IT industry of which south could be proud of in comparison to north. Flipkart, the largest e-commerce company in India headquartered in Bangalore is run by north Indian Bania, Sachin Bansal and Binny Bansal. Infosys founder was educated in Kanpur and worked in Maharashtra in an IT company run by Gujarati businessman (Patni Computers) before going on entrepreneurial venture.  It is entrepreneurs who create wealth not the governments, and entrepreneurs move to places which give them best opportunities. If we make a list of Indian billionaires living in cities of Mumbai, Bangalore, Hyderabad then we will find that more than half of these billionaires neither speak the language of the state nor they are natives there. A small sample is as following.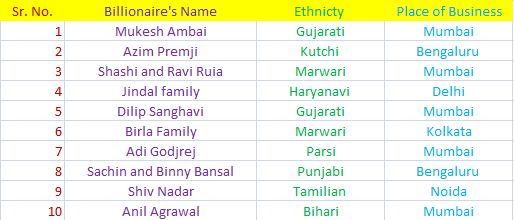 The trait is not limited to India, it is same throughout world. The Americans produce more wealth because they are more open to smart ideas and people. The Jewish people who virtually rule media and technology industry of United States are second or third generation migrants. Most of Indian technology talent on which Silicon Valley is dependent are first or second generation migrant. It is true that southern part of the country pays more taxes and gets less in return. But inequalities between regions of the country are natural phenomena and it is same throughout the world. The cities in any country produce more wealth in comparison to rural areas and some regions are better for sustaining cities than other. London alone produces more than 22 percent of UK's GDP but that does not mean it starts asking for separate polity because people throughout UK have contributed their share in making London productive and it could not sustain without rest of the country. Same goes for the subunits of the United States.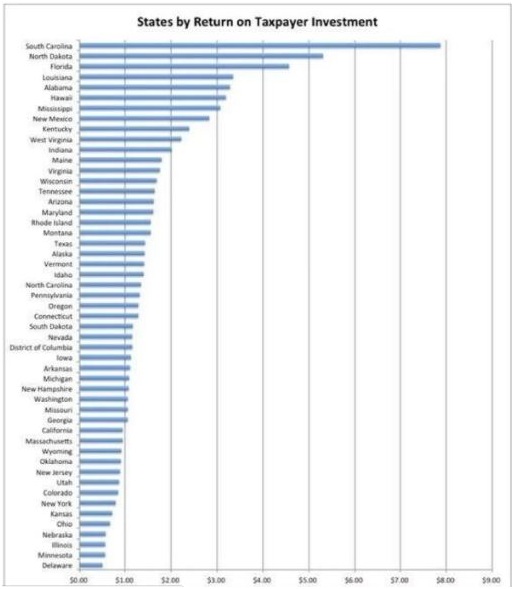 The idea of union of the south is a dangerous one and it could lead to Balkanization of the country. It could further break into people of a state like Karnataka start asking for separate unit  because they get lower per capita return in union of southern states. The city of Mumbai starts asking for a separate polity because they pay more than 40 percent of country's direct taxes. Then further rich people of Mumbai ask for a separate unit because they pay more taxes. The Brahmin and Bania caste of the country start asking for a separate unit because they produce most wealth and pay more taxes and guess where this will end. So, although some course correction is needed for more equitable growth and northern states should be administered more efficiently, the idea of 'united states of south India is stupid and hollow one'.