'Aarti Malhotra or Aarti Mohammed, does it make a difference?'
Aarti Malhotra or Aarti Mohammed. Does it make a difference????#MYMULK pic.twitter.com/920WtaNfcF

— taapsee pannu (@taapsee) July 17, 2018
Confused? This is the current trend of secularism, as being propagated by actor Taapsee Pannu for her upcoming film Mulk, directed by Anubhav Sinha, which seems to touch upon the controversial topic of Islamophobia and how one such family is affected after some bomb blasts rock their hometown and one of their own members is accused of being a part of it.
They say, 'Do not Judge a Book by its cover'. However, going by whatever we've been able to grasp from the snippets of the movie out in public, especially after witnessing the official trailer, we know for sure that Mulk is yet another movie that propagates minority appeasement, employing the done to death clichés that have made Bollywood a laughing stock in the entire world cinema.
Needless to say, just like her social drama Pink, Taapsee is leaving no stone unturned to promote her film, becoming the anti hate crusader in order to ensure the success of her new movie. Following are a couple of tweets that depict the intensity with which the crew of Mulk is desperately promoting the movie:
— Anubhav Sinha (@anubhavsinha) July 25, 2018
Will you label a community because of a few people's deeds? Find out answers to questions like these tomorrow. #MyMulk@taapsee @chintskap @benarasmedia @prateikbabbar @trueshailendra @mrrajatkapoor @ZeeMusicCompany @DeepakMukut @anubhavsinha #AnubhavSinha @SohamRockstrEnt pic.twitter.com/XYRahkF1RS

— Mulk (@Mulk_Film) July 22, 2018
This is, however, nothing new to Bollywood, which is notorious for such crafty promotions just before a movie is to be released. We need not go very far, if we remember the promotion plan for Udta Punjab well. The four main actors had turned into anti drug crusaders, and talked at length about the drug menace that affected Punjab, crying hoarse when the then Censor Board committee, headed by notorious filmmaker Pahlaj Nihalani ordered more than 13 significant cuts in the movie.
However, once the movie was released, and their prime target, i.e. the Shiromani Akali Dal – BJP coalition was ousted from power in 2017, except for Diljit Dosanjh, who is still vociferously battling for an effective solution to end the drug menace, the other three, Shahid Kapoor, Alia Bhatt and Kareena Kapoor Khan [we'll come to this lady later] have completely forgotten about the issue, as if everything is hunky dory in Punjab post the release of the movie Udta Punjab. Does the quest for profit make you this shallow?
Coming back to the trend as observed latest in Mulk, the following tweet by the film's crew lay bare the hypocrisy which was royally exposed in the notorious Kathua case:
Will you label a community because of a few people's deeds? Find out answers to questions like these tomorrow. #MyMulk@taapsee @chintskap @benarasmedia @prateikbabbar @trueshailendra @mrrajatkapoor @ZeeMusicCompany @DeepakMukut @anubhavsinha #AnubhavSinha @SohamRockstrEnt pic.twitter.com/XYRahkF1RS

— Mulk (@Mulk_Film) July 22, 2018
So according to the tweet, we're asked if it's okay to paint an entire community as the same because of few people's deeds. If this is really their motive, what was the vilification of the entire Sanatan community in the Kathua case all about?
Need we remind you of the vicious branding our community suffered, just because the accused were allegedly Sanatani Hindus? Despite the evidences and eye witnesses shrieking against the same, it was the same elite Bollywood brigade who did not waste a fraction of a second in vilifying one entire community as 'rapists', describing India as 'Rapistan' and labeling anybody who called for a fair trial as 'rape supporters':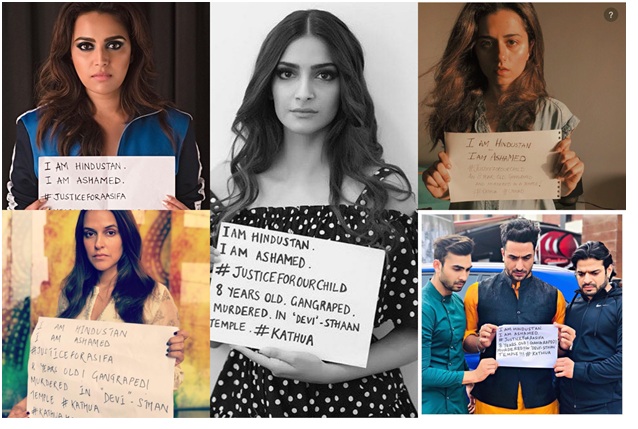 If this was not enough, a placard campaign by this very brigade, led by actresses Sonam Kapoor, Kareena Kapoor Khan, Swara Bhasker, Huma Qureshi among others, continued to shame us, deliberately quoting 'Hindustan' and 'Devi Sthan' under quotes to paint an entire community as culprits. For what purpose? Just so that their new movie, Veere Di Wedding, gets enough publicity.
To be frank, we'd love to ask this brigade: did rapes stop after the release? Did every victim get justice? Ironically, this very crew duct taped themselves when a similar case happened on an even more gruesome scale in Mandsaur, and the perpetrator was from the very community they're so apologetic about in the first place.
Not a single tweet came in the favor of the Mandsaur victim as compared to the crocodile tears they shed for the Kathua victim. Sadly, this vicious campaign was partially successful as well, for despite the criticism and the shoddy content, Veere Di Wedding managed to mint more than Rs. 130 crores overall.
If we start talking about how Bollywood has systematically vilified and defamed our Sanatan community, including our Sikh brothers and sisters, we would probably have written an epic as long as the Mahabharat itself. However, it doesn't look like they're ashamed to any extent about it. Worse, in a bid to promote his movie, Mulk director Anubhav Sinha has openly went on the offensive, targeting any criticism to his narrow minded approach as 'trolls' and refusing to accept the existence of Islamic terrorism at all.
Even some of the respected actors are not away from this hypocritical trend. Though not directly involved himself, Akshay Kumar, who wasn't very vocal about female periods and the maintenance of proper menstrual hygiene, turned into one such activist overnight as his movie on the same issue Padman was about to release.
Though the movie was an inspiring take on the trials and tribulations of Arunachalam Muruganathan, who is famous for his invention of low cost sanitary pad making machines, the penchant for being a social justice warrior sadly restricted its outreach, thanks to the producer Twinkle Khanna.
In a bid to promote her movie, she went ranting about how women in India were still deprived of proper sanitary pads, and how the policy makers of our country were actively conspiring to keep the situation as it is.  She didn't even hesitate from vilifying the entire male community in India as chauvinistic and anti women, killing the outreach of her own movie.
Despite being an informative movie, Padman only managed to scrape Rs. 121 crores overall, making this a classic case of the social justice warrior mode damaging the very prospects of one's movie being successful.
Richard Garner had once said, 'Every veil desires to be lifted except the veil of hypocrisy.' Same goes for our elite Bollywood who do not want to be grilled or questioned for their actions, and yet wish to impose their archaic thoughts on an emerging India, who're slowly coming to terms with the extent of hypocrites that these people are. Whether or not their tricks continue to succeed is something only future can tell, but as Abraham Lincoln said, 'You can fool some people all the time, you can fool all the people for some time, but you cannot fool all the people all the time.' The game is on!