Bollywood's unique traits of secularism are hidden from none. Their penchant for pious characters from the minority community often at the receiving end of the goons from the majority community is well known to all. When it comes to portraying villains, Bollywood has always relied on their tried and tested formula: 'Saffron Terror'.
Much before Rahul Gandhi and his cronies made this term a nightmare for the Hindu community during the UPA era, Bollywood had propagated their own version of Saffron Terror, by portraying upper caste Hindus as dreaded, heartless villains.
Yes, we're no strangers to infinite articles on how there is no Dalit protagonist in Bollywood and how Bollywood allegedly typecasts Muslims. But ever wondered why most of our dreaded Bollywood villains [a notable few left aside] have been mostly Hindu, upper caste bigots?

If we go deeper into how the villains have been portrayed in Bollywood, we'll find almost without fail that a large chunk of the nastiest Bollywood villains have been devout Hindus, rather disgusting ones to be precise. They have been quite prominent in the villain's list and have stereotyped the Hindu community in the most cringe worthy ways possible.
This trend is not something that has just cropped up out of nowhere. The signs became visible in the late 50s itself, and what better to explain this than Mother India? India's first submission for the Foreign Language section of Academy Awards, Mehboob Khan's Mother India, had begun portraying stereotypes in the worst way possible, including a blood sucking, lecherous moneylender who went by the name Sukhi Lala. However, the dramatic premise and the hype around the movie aggravated by its nomination for the Oscars suppressed the simmering discontent soon enough.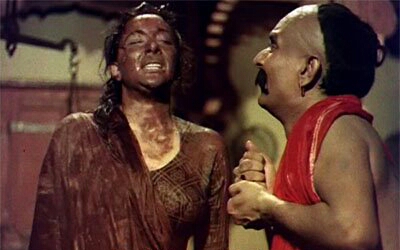 The following decades of the 60s and 70s focused less on such Hindu bashing and more on toeing the lines of the incumbent Congress governments. The phenomena resurfaced in the 80s, and by the 90s, this trend became as normal as with almost eight out of ten Bollywood being either tyrant feudal lords or heartless moneylenders or racist priests of the worst order. If you don't believe me, take a look on some of the most dreaded villains from the early 80s to the current 2018:-
Kshatriyas:-
Since early 1980s, the once regal and majestic Kshatriyas were soon degraded to tyrant, lecherous but powerful feudal lords. It kind of began with Raj Kapoor's 'Prem Rog'. Labeled as 'India's Showman', Raj Kapoor is also notorious for grossly stereotyping the Hindu community as promiscuous, tyrant folks. If one has seen Prem Rog, they'll know how they've defamed the Kshatriya community by showing Raza Murad as a tyrant Thakur, who lusts on his younger brother's wife and even goes to the extent of raping her, while conveniently hiding behind the façade of customs.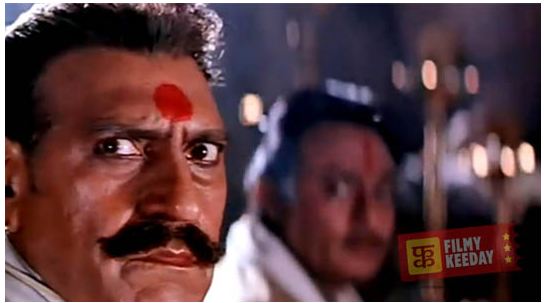 The stereotyped Thakur in every random movie would terrorize villagers, lust on young women, and murder anybody who tried to raise a voice against them. What began with Prem Rog, was soon undeservedly popularized by Amjad Khan in the rather cringeworthy 'Himmatwala', where he portrayed the role of Sher Singh Bandookwala, who terrorizes the village and forces the protagonist's father, a schoolmaster to abandon his family.
If you think the above two were just characters, nothing else, then take a look at this:-
Bhagwat Chaudhary [Ram Teri Ganga Maili]:- Lecher, Trafficker
Thakur A M Singh [Dance Dance, 1987]:- Rapist, Murderer
Thakur Bhupendra Singh [Aaj Ka Arjun, 1990]:- Tyrant, Murderer
Barrister Indrajit Chadha [Ghayal, 1993]:- Lecher, Charlatan
Thakur Durjan Singh [Karan Arjun, 1995]:- Tyrant, Murderer
Brigadier Rudra Pratap Singh [Shaurya, 2008] [This stereotype is unforgettable]:- Tyrant
Dukey Bana [Gulaal, 2009]:- Tyrant, Murderer
Thakur Bachcha Lal [Dabangg 2, 2012]:- Tyrant, Murderer
Ramadhir Singh [Gangs of Wasseypur, 2012 ] – Tyrant, Murderer
Brahmins:-
If you think only the Kshatriyas were grossly misrepresented in Bollywood, the Brahmins are no better. Unfortunately at the receiving end of every criticism and atrocity since Independence, the Brahmins have had the worst in terms of representation in Indian cinemas, shown as either scheming musclemen or degraded racists of the worst order, with no morality at all. 
Be it the horrible rapist Gokul Pandit from Dushman, or the opportunistic Subodh Mulgaonkar from 'Zakhm' [which is ironically a masterpiece for many], the Brahmins have also been defamed by Bollywood in ways one cannot even fathom. Probably one of the most disgusting portrayals of a Brahmin would undoubtedly be the character of Pandit Jagannath, essayed by Piyush Mishra in the movie 'Matrubhoomi', released in 2004 .
Even today, in 2018, the situation has hardly changed, and some still think like Anurag Kashyap, that a tyrannical Brahmin would be more than enough to set the cash registers ringing in Bollywood, as he attempted shamelessly with his movie 'Mukkabaaz'.
Following are some other examples of how Brahmins have been misrepresented, even defamed in Bollywood:-
Vijay Agnihotri [Anjaam, 1994]:- Tyrant, Lecher, Stalker, Murderer
Lajja Shankar Pandey [Sangharsh, 1998]:- Tyrant, Serial Killer
Langda Tyagi [Omkara, 2006]:- Charlatan, Murderer
Raghav Chetan [Padmaavat, 2018]:- Lecher, Traitor
Vaishyas:-
Even the trader class in the Hindu community, i.e. the Vaishyas haven't been spared by Bollywood as well. They have been equally vilified by Bollywood as greedy, blood sucking Baniyas who only know how to extract money, by hook or by crook.
From the early days of Sukhi Lala, the notorious moneylender in Mother India, to the times of the scheming Narayandas Munim from Himmatwala [essayed by the comedian Kader Khan], the Vaishyas have been stereotyped to levels ad nauseam.  Following are some other examples that are testimony to Bollywood's inherent bias towards the Vaishyas:-
Lala Gendamal [Kishen Kanhaiya, 1991]:- Tyrant, Murderer
Ram Bandhu Gupta aka Mirchi Seth [Sarfarosh, 1998]:- Charlatan, Arms supplier
Jogia Seth [Khoobsurat, 1999]:- Gangster
This list is not even a fraction of the systematic vilification Bollywood has been doing to our subconscious minds since years. For decades, they have successfully managed to brainwash generations with mediocrity, so much that they consider such absurd principles to be sacrosanct. Need we remind you of the way some of the youth have defended the vilification of  Hindus in Mukkabaaz and Quantico?
Sadly, there is little to negligible mention of such gross vilification, mainly because of two reasons. The upper caste are not concerned at all about this absurd stereotyping, and for the liberal intelligentsia, such atrocities do not exist at all.
Not many remember this, but a Hindi movie scene, starring Shiney Ahuja as a Catholic priest, was banned before its release, just because it exposed the promiscuity that Roman Catholics are well notorious for. Contrast this with the absolute ignorance to the Brahmin bashing Anurag Kashyap did in Mukkabaaz. Was that not casteism?
And this is not even an exhaustive list, this is just a top of the mind list. If we start documenting all the upper hindu characters who have been portrayed as villains, I will probably need to write a book about it.
thatAll is not lost, however. The way Mukkabaaz has tanked at the box office, despite the Brahmin bashing on its sleeves, and the way films like 'Parmanu' have succeeded against all odds, especially with a Kashmiri Pandit bureaucrat as the protagonist, speaks volumes about the slow but steady change. Even in some of the big budget movies, upper caste heroes do set the cash registers ringing.
We hope that the upper caste vilification soon becomes a mere black page in the history of Indian cinema. Given that cinema is considered to be a 'soft power' in influencing any nation's thinking, India will be certainly a better place if that happens in true spirit.