By now, The Quint needs no special introduction. They are in soup for their blatant fake news, including atrocious allegations on ex Indian Navy Commander Kulbhushan Jadhav who is presently languishing in a Pakistani jail. This "news" portal has time and again proved with finesse why Smriti Irani's controversial circular that sought to clamp down on fake news needs to be implemented without delay.
However, with their latest post, they've crossed all limits of journalistic ethics and have indulged in blatant muck raking by insulting those who have contributed to the India we know of today. They've tried to downplay the contribution of Mangal Pandey, without whose valor it would've been very difficult for India to muster the courage to rebel against the British Empire. Of all people, The Quint has openly insulted the legacy of the Mangal Pandey, who was a catalyst to The Great Revolt of 1857, rightly termed by Vinayak Damodar Savarkar as 'India's first War of Independence'.
To begin, the headline in itself gives away the essence of their article, which is denting the legacy of one of the greatest freedom fighters of the British Raj.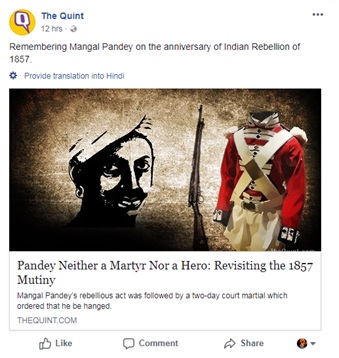 Before we dig deeper into the nefarious agenda behind this atrocious article, let us have a look at the man himself. Mangal Pandey was a private sepoy for the 34th Bengal Native Infantry Regiment of the British East India Company, stationed at Barrackpore. The regiment was recently introduced to the Enfield matchlock musket rifle, in which a paper cartridge, comprising the bullet and gunpowder, had to be bitten off in order to load the ammunition into the rifle.
The native soldiers later found out that the cartridges were greased with the fat extracted from the corpses of cows and pigs. Enraged at such a blatant disregard for both Hindu and Muslim culture, the soldiers protested against this decision, but in vain.
 It was during one such agitation that Mangal Pandey lost his cool and rebelled, shooting down two of his officers before failing in his attempt to commit suicide when surrounded by the British officers. He was hanged on 8th April 1857, a fortnight before Jemadar Ishwari Prasad, who assisted him by refusing to let his subordinates apprehend Mangal for his rebellious act. This incident soon stirred the hornet's nest, and culminated in the beginning of the Great Revolt of 1857 in Meerut on 10 May 1857.
Reposted from their old archives, this article written in 2016 by Chandan Nandy, has taken a dig at the credentials of Mangal Pandey, refusing to acknowledge his bold act and his patriotism. Mr. Nandy also tried to shift goalposts by sympathizing with the Britishers, blaming their intelligence for failing to detect the brewing revolt against their rule. Following is an example of how enlightened this author is in describing Mangal Pandey's heroic act:-
"…Pandey's martyrdom has been questioned by the foremost 1857 historian, Rudrangshu Mukherjee, for whom "There is no evidence to justify the view that this sepoy was a martyr and hero who decided to die with honor, betraying none of his co-conspirators, and expressing no regret or remorse." It is Mukherjee's case – and rightly so – that there was no causal relationship between Pandey's solo rebellion and the more concerted action of the sepoys in Meerut."
"…While it is certain that Pandey "had no notion of patriotism or even of India," …The British failed to read the cryptic messages in Pandey's invective-peppered outburst."
Notice the way this author has tried to justify the blatant insult meted out to Mangal Pandey by quoting the opinions of a rather unknown historian named Rudrangshu Mukherji. However, this is not the first time that this author or the website has resorted to such rumor mongering. The Quint had earlier attempted to justify the sentence meted out to Kulbhushan Jadhav by presenting fake evidence of his confession as a spy, which were even supported by terror kingpin Hafeez Saeed.
This website is a notorious source of misinformation and fake news, insulting anything that is even remotely Indian / Sanatani, while trying to whitewash dreaded criminals like Osama Bin Laden, Burhan Wani and now ex professor turned terrorist Rafi Bhat. It should therefore come as no surprise that the Quint would've left no stone unturned in discrediting a man who had sounded the bugle of the Revolt of 1857, perhaps because he is Hindu as well as a Brahmin.
Criticism is required, dissent in opinions is also welcome, but that doesn't give one the right to insult those people without whose contributions the Quint wouldn't have had the privilege of even attempting to write this insulting and historically inaccurate piece.