Prime Minister Narendra Modi has been ranked as the 9th most powerful person in the world, ahead of British PM Theresa May (14), Chinese Premier Li Keqiang (15) and Facebook CEO Mark Zuckerberg (13) in the Forbes list of World's Most Powerful People. It must be noted here that this is the highest position ever achieved by an Indian Leader since 2009 when Forbes first published the list.
"Modi has raised his profile as a global leader in recent years during official visits with US President Donald Trump and Xi Jinping. He has also emerged as a key figure in the international effort to tackle climate change, as warming affects millions of his country's rural citizens," the magazine stated.
Since assuming power, PM Modi has taken one brave decision after another to improve India's socio-economic condition. Through his charisma and friendly persona with foreign leaders, he has been able to put India on the global map as one of the most powerful countries in the world. He remains highly popular among Indians at home as well as the Indian diaspora abroad.
Modi's foreign policy has been praised by leaders across the political spectrum. In his speech at the UN, he said "It is dangerous to make the distinction between good terrorism and bad terrorism", a statement which has been praised by statesmen throughout the world. With his diplomatic efforts, he has successfully to countered Chinese aggression in Doklam. He replied to Xi Jinping's "string of pearls " through energy diplomacy in South Asia and the Indian Ocean.
With regard to Pakistan, he has been able to internationally isolate the Islamic republic, which led to a substantial decrease in US funding to the Pakistan military. His efforts in Europe are taking shape in the form of progress in the framework of the Indo-European Free Trade Agreement. During his tenure, Indo-US relations have gotten warmer. Trump is a big fan of PM Modi, and even mentioned the slogan "Ab ki Baar, Trump Sarkaar" in his presidential campaign. On the Russian front he has been able to maintain cordial relations with President Vladimir Putin despite warming up to their arch rivals United States. He also improved India's ties with Israel, which could help India in modernizing its military and dealing with Islamic terrorism. Israel can be an important partner vis-a-vis intelligence sharing is concerned, especially since the Mossad is arguably the best intelligence agency in the world. His 'Bromance' with Israeli PM Benjamin Netanyahu was the media's favourite story for days on end. On global issues like climate change, he has improved both his and India's stature by stating that India would do its utmost to help curb the phenomena, despite India being a developing country with conventional industries.
Forbes said PM Modi "remains hugely popular" in the second most populous country in the world.  It cited Modi government's November 2016 decision to eliminate India's two largest banknotes in a bid to reduce money laundering and corruption. Demonetization was a decision which was praised across the world; noted behavioral economist Richard Thaler who got Nobel Prize in 2017 also praised demonetization in a tweet. He said demonetization will prove to be a powerful tool to reduce corruption and help India in moving towards a cashless economy.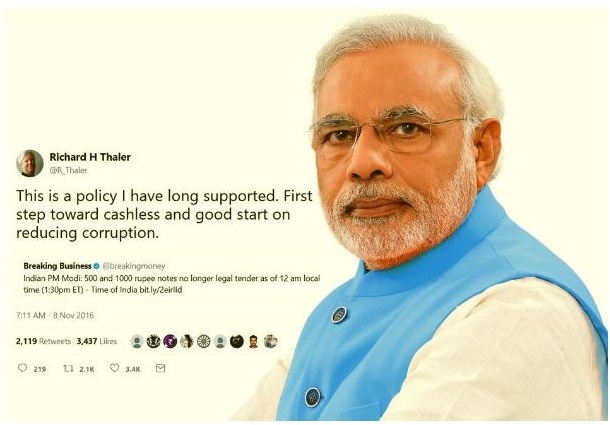 Demonetization decision along with the GST proved to be an effective tool in improving India's tax base. The number of income tax filers in the country rose exponentially in the period following demonetisation. This improved tax is expected to bring more money to government coffers, which could be used to deliver India's dire public services like health and education.
 The demonetization decision broke the supply chain of funding to terrorist and Maoist networks based in Kashmir and central India respectively. Therefore demonetization helped India is enhancing its internal security as well. Demonetization paid rich electoral dividends to the BJP; it won most populous state Uttar Pradesh in just 3 months following the decision. This shows that despite all the criticism, demonetization was popular among the common people.
PM Modi government's developmental schemes like JAN DHAN for financial inclusion, Beti Bachao and Bati Padhao for girl child education, and the touted universal healthcare insurance program (popularly known as Modicare) have been highly popular among the populous of the country. Forbes recognizing him as the 9th most powerful person shows that he has become one of the tallest leaders in the world.