While writing this article on January 29th, I wonder what we have achieved in these 70years of independence. India has become a country where police and administration was busy providing security to moviegoers, as a 16-year-old patriot teenager was murdered for participating in "Tiranga rally" and chanting Vande Mataram on 69th anniversary of Indian Republic Day in Kasganj town of UP. It is rather unfortunate that when our administration tightens security to neutralize external threats on the Republic Day, some people living right inside India try to destroy it.
On 26th January 2018, when the whole nation was celebrating the 69th anniversary of Indian Republic, Kasganj town of UP witnessed an attack on how a group of patriots, their crime – A bike rally called Tiranga Yatra. The volunteers of ABVP (student wing of RSS) and VHP carried out a flag rally on bikes on Republic Day morning and chanted slogans of "Vande Mataram", "Hindustan Zindabad" & "Bharat Mata ki Jai" all along. The rally started from Bilram Gate area in Kasganj and when it reached the Muslim-dominated Baddu Nagar, people of a specific & privileged community refused to let them pass, which caused some altercation.
The rally then took a detour and tried to pass through another Muslim dominated area called Tehsil road. People of specific community from this region objected to the rally and started pelting stones on the participants of the "tiranga rally". When the miscreants of specific community outnumbered the volunteers, the rally members had to leave their bikes behind and flee. The miscreants set fire to the bikes. The miscreants then vandalized one mini truck, three Scorpio SUVs and two Magic passenger transport vehicles on Mathura-Bareilly highway road passing via Bilram Gate. The mob even burned down a kiosk near a petrol pump. In the ensuing chaos, some criminals started firing in which Rail Road resident Sushil Gupta's 16-year old son Chandan Gupta received a bullet on his chest. He later died of his injuries. In the same chaos, two other persons named Prince and Naushad received injuries too.
The Kasganj violence makes a point very clear. That some anti-social forces are hiding under the garb of secular-fabric of India waiting for an opportune moment to come out and paint the streets red with blood. Kasganj has now become a big challenge for the Yogi government, possibly his biggest till date and here is why I think so:
Point 1. Restoring order and peace.
The main challenge of the Yogi administration is to contain the situation and bring peace in Kasganj. Even after the worst is over, there are waves of recurring violence engulfing the region. If we are to believe TimesOfIndia, agitating people burned down five buses, three shops and a mosque after the cremation of Chandan Gupta. Additionally, a farmhouse of a local resident was vandalized too. However, according to BusinessStandard, Police stopped the miscreants from desecrating the mosque. The administration suspended all Internet services from 5 pm on 27th January to 10 pm on 28th January to stop any rumors from spreading. Additionally, drones are being used for surveillance, too.
#WATCH: Drones being used in Kasganj by police for vigilance in the light of #KasganjClashes pic.twitter.com/7hn5e4ihhI

— ANI UP (@ANINewsUP) January 28, 2018
An FIR was filed by Inspector Ripudaman Singh, Station House Office (SHO) of Kotwali, against six named people under IPC Sections 147, 148, 149, 307, 336, 436, 295, 427, 323 and 504, and Section 7 of the Criminal Law (Amendment) Act, 2013. Deceased Chandan Gupta's father Sushil Gupta filed an FIR against 20 men, including three from same family named under various sections of IPC. Administration has constituted a SIT to probe the incident. Five companies of the Provincial Armed Constabulary (PAC) and one company of the Rapid Action Force (RAF) have been deployed in the town. The area is under curfew after section 144 was imposed in the region and though some miscreants torched a bus and a hut on Saturday morning, the situation was immediately brought under control. 49 people have been arrested, 10 of which have murder charges against them while 39 others are charged for disruption of law and order situation including those who torched buses and shops.  In another report, police has arrested 112 people till now. Police even recovered crude country bombs from the house of one of the accused in Chandan Gupta's murder case named Shakil, which clearly proves that there are some elements trying to spread the chaos further.
Point 2. Probe to find the truth.
Different media houses have been giving out different versions of the Kasganj incident, hence it becomes a major headache for the Yogi Government. Some reports even claim that the participants of the bike rally instigated the tension by hurling verbal abuse against the specific community. Some media reports have explicitly mentioned that the rally was an unscheduled one- however they haven't clarified if communal violence for carrying out a flag march is justified or not. There is another version of the story too, according to the statement by Chandan Gupta's father Sushil Gupta, his boy was forced to say "Pakistan Zindabad, Hindustan Murdabad". When the boy refused to say so, he was shot in the chest. If we are to believe Mr. Gupta's statement, then the conflict, which the media is terming as communal violence is even seditious in nature and is of grave concern. A report by Hindi media Jagran claims that a youth from the specific community was chanting "Pakistan Zindabad". BJP MP Rajveer Singh, who attended Chandan Gupta's cremation, claimed that the bikers were even attacked with acid. Yogi Government needs to get to the core of it and exhume the truth.
Point 3. Dealing with anti-India elements.
If it established that the tension erupted because some people had problems with pro-India slogans then it indeed becomes a big challenge for Yogi government. He will need to stamp his strong Chief Minister authority all over again and crack down upon the anti-India forces.
And Kasganj is certainly is not the first time when anti-India and Pro-Pakistan sentiments were displayed in Uttar Pradesh Publicly.
1.) In September 2016, "Pakistan Zindabad" slogans were raised during Congress' rally organized for Uri martyrs in Moradabad.
2.) In October 2016, "Pakistan Zindabad" slogans were raised during Muharram processions in Bareilly.
3.) In October 2017, pro-Pakistani slogans like "Pakistan Zindabad" were raised during Muharram processions in Agra.
4.) In November 2017, some people raised "Pakistan Zindabad" slogans during the rally of Asaduddin Owaisi's AIMIM candidate in Ghaziabad.
5.) In December 2017, supporters of BSP candidate Babbo Parvin chanted "Pakistan Zindabad" during a rally to celebrate the candidate's civic-poll victory in Bulandsahar
UP has also proved to be a major target for ISIS recruiters, whose agents constantly comb the areas to recruit youths for ISIS. Also in recent years, there have been numerous cases when many Madrasas of UP openly defied UP government's directive to celebrate Independence Day by singing National Anthem. The greatest challenge that the Yogi government faces is to curb out the anti-national elements.  
Point 4. Standing by the family of deceased teenager.
B.Com final year student Chandan Gupta was a lively teenager who was involved in many social and helpful activities, like donating blood and helping poor and homeless kids. He ran a private organization named "Sankalp" which aimed at helping the poor and the needy. His father works as compounder in a private nursing home.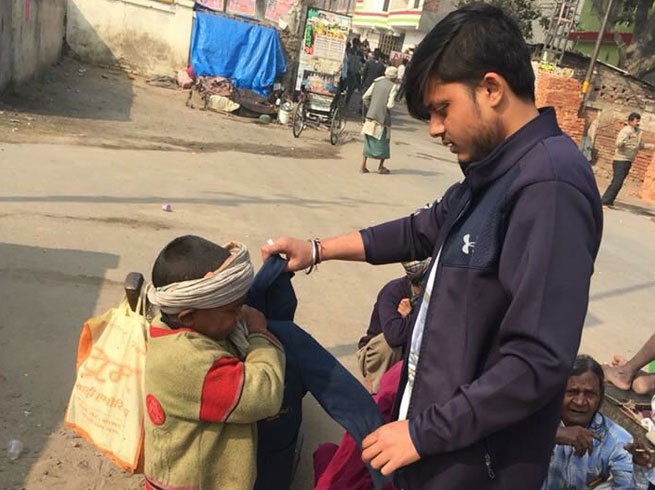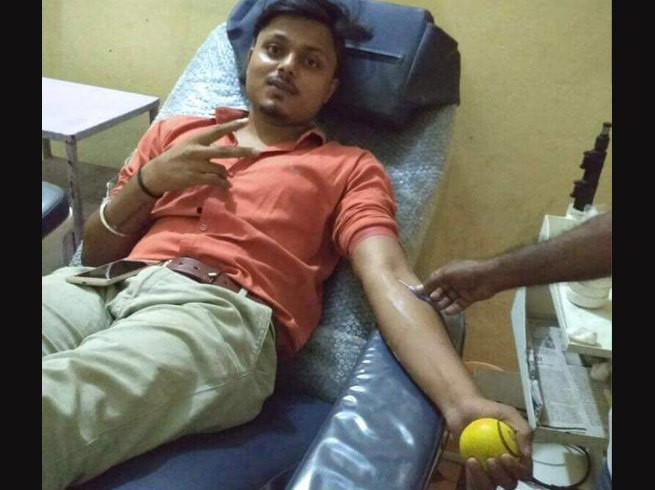 In no way, a person like Chandan Gupta deserved to die, especially for carrying tricolor and chanting Vande Mataram. The Yogi government needs to nab the murderers of Chandan Gupta and punish them accordingly. Chandan died like a martyr and he deserves to be treated like one.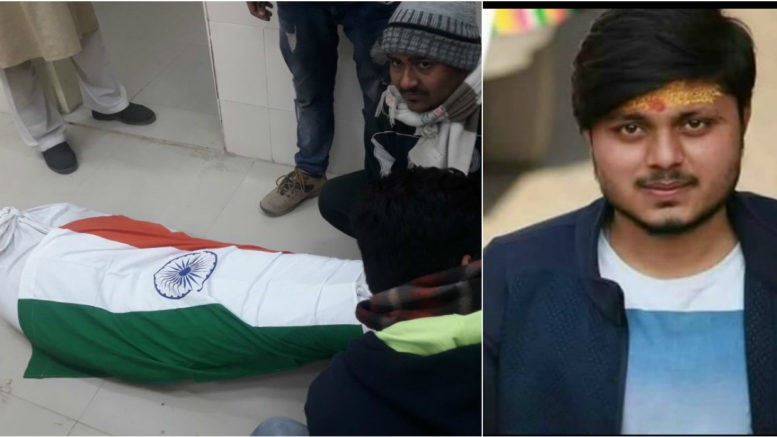 Murderers of Chandan Gupta should not be spared. One of the alleged murderers is called Shakil and police had recovered pistol and crude bombs from his home. Besides assuring justice, district authorities had accepted to offer Rs. 5 lakh to Chandan's family earlier. According to the latest news, Yogi Government had announced an ex-gratia of Rs. 20 lakh to Chandan's family. The money would be delivered by Monday 29th January.
Point 5. Yogi's image of a no-nonsense strong administrator
Yogi Adityanath remains the most popular BJP Chief Minister so far. He is considered a no-nonsense CM, who is a Hindu Nationalist on one hand and a development oriented strict disciplinarian on the other. It is with great expectations that people look at Yogi. People look at Yogi as a possible replacement for PM Modi in 2024. Hence it is natural for people to expect quick justice for Chandan Gupta and quick resolution for the Kasganj carnage. Hope Yogi knows that he is facing the greatest challenge of his brief career as a chief minister.