In Greek Mythology "phoenix" cyclically regenerates and obtains a new life by rising from the ashes of its predecessor. Many of you may already be aware of the fact that iconic "INS Vikrant" (R11) which played a crucial role in enforcing the naval blockade on East Pakistan during the Indo-Pak war of 1971 was raised again as first indigenous Aircraft Carrier (P-71) 'INS Vikrant' and will be inducted in Indian Navy by 2020. But do you know (S50) Kalvari, a Scorpene-class stealth submarine recently commissioned in Indian navy was risen from its predecessor (S23) INS Kalvari, Just like Phoenix.
Source : https://en.wikipedia.org/wiki/INS_Kalvari_(S23)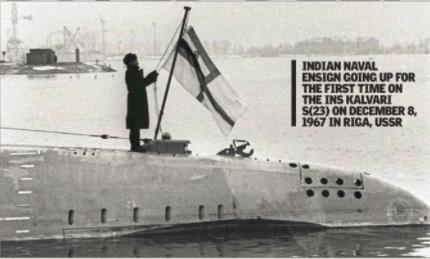 The journey of Kalvari started on December 8, 1967, when Commander K.S. Subramanian read out the commissioning warrant in freezing -15 degree Celsius at Vladivostok, submarine base in Russia (erstwhile USSR). Today with 16 subsurface boats Indian has seventh largest fleet of submarines. Of the various naval platforms Air, Surface and sub-surface "The submarine" is cheapest platform to maintain and Indian navy has re calibrated the focus back to this platform. Though the maintenance is low, the unit cost is very high and as a result the programme to build four SSBNs (submersible ship ballistic missile-Nuclear) is India's largest defence programme, estimated at INR 90,000 crore. Each of these nuclear-powered underwater killing machines will cost more than INR 4,000 crore excluding the cost of reactor and submarine launched ballistic missile SLBM being made by BARC and DRDO each making respectively.
 Source : https://www.globalfirepower.com/navy-submarines.asp
The real punch of the submarine fleet is SSBN.
The submarines are named as follows:
a.) N = nuclear propulsion, lack of an "N" represents conventional propulsion
b.) SS or SSN = submersible ship (standard conventional/nuclear attack submarine)
c.) SSG or SSGN = submersible ship guided missile (i.e. Cruise missile Submarine)
d.) SSB or SSBN = submersible ship ballistic missile (i.e. Ballistic Missile Submarine)
e.) SSK = ASW Hunter/Killer Sub
On November 19th, 2017, Defence Minister Nirmala Sitharaman cracked the auspicious coconut on the fin of the INS Arighat in the dry dock of the Ship Building Centre in Visakhapatnam in a restricted access launching ceremony. Following this, the SBC's drydock was flooded and the submarine quietly floated out. INS Arighat will join the INS Arihant by 2021. India started building its first nuclear submarine, the INS Arihant, under the highly secretive ATV program (Advanced technology vessel). In fact the project was so secretive, that it wasn't until July 2009, when it was actually launched, that it was even officially acknowledged to exist. Work on it had started way back in the 80s, with Soviet help.
With the launch of INS Arighat two new units will occupy the dry dock which will have a 1000 tonne more displacement than the lead ship of the class INS Arihant. These two units will be launched by 2020-22 and dock will then occupied by 3,500-tonne ballistic missile submarines. Called the 'S-5', These will be twice the weight of the Arihant class SSBNs and will be armed with 12 nuclear-tipped missiles.
Two new units, the S4 and S4 'star', displacing over 1,000 tonnes more than the Arihant class will move into the SBC drydock vacated by the two Arihant class submarines. These submarines, fitted with eight ballistic missiles or twice the Arihant's missile load, will be launched by 2020 and 2022.
The ATV has doubled the size to build six indigenous SSNs. The SSNs are as important as SSBNs as they can blockade important sea routes, denying the enemy access to important resources in an event of war, and shadow enemy ships. Admiral Sunil Lamba told media on December 1, 2017 that "It has kicked off".
The navy is called as force of today as it protects the strategic interest of the country by guarding the vital sea lanes and the naval stock piles are always about the deterrence. With India's no first use policy, it was important that we complete our nuclear triad and the triad remains operational when Arihant sails. The new SSBN INS Arighat will certainly add to the deterrence and will act as another step toward "second strike" capability.
The challenge which India is facing in not only from the PLA Navy which has 5 SSNs, 4 SSBNs and 54 SSKs but also from Pakistan which has recently acquired eight SSKs from China. But the focus of Indian navy has always been quality rather than numbers.
The current superstars of underwater fleet of the Indian navy are
1.) INS Sindhughosh (S55)
2.) INS Sindhudhvaj (S56)
3.) INS Sindhuraj (S57)
4.) INS Sindhuvir (S58)
5.) INS Sindhuratna (S59)
6.) INS Sindhukesari (S60)
7.) INS Sindhukirti (S61)
8.) INS Sindhuvijay (S62)
9.) INS Sindhurashtra (S65)
The Shishumar class is also set to get a midlife upgrade
1.) INS Shishumar (S44)
2.) INS Shankush (S45)
3.) INS Shalki (S46)
4.) INS Shankul (S47)
The Kalvari class of Scorpene-class stealth submarine is best example of the make in india project. With the commissioning of INS Kalvari and launch of INS Khanderi , India will be receiving another 4 boats from the same class.
The focus of India seems to be clear. The development of underwater fleet and for a country like India which highly depends on sea lanes for its energy supplies and trade it will be very crucial.
शं नो वरुणः
Jai Hind!!
Disclaimer:
Upon asking about the SSBN project admiral Sunil Lamba said to the reporters that "you know we will not be talking about that" that provides insight of the fact that how important the SSBN project is for India & Government and hence I have only provided the information which is already available in the public domain.
Sources :
http://indiatoday.intoday.in/story/india-ballistic-missile-submarine-k-6-submarine-launched-drdo/1/1104982.html
http://www.livemint.com/Opinion/rqltXdEokaHko48UWoc7CN/French-Barracuda-projects-utility-to-India.html
https://en.wikipedia.org/wiki/K-4_(SLBM)
https://en.wikipedia.org/wiki/Kalvari-class_submarine
http://www.deccanherald.com/content/427979/first-scorpene-submarine-become-reality.html