During his Uttar Pradesh visit, on the eve of Vijaya Dashami in 2016, Narendra Modi ended his speech with the auspicious chant of "Jai Shri Ram". The secular politicians got alarmed and accused him of communalizing the UP election. One of those politicians was Assaduddin Owaisi, who called PM Modi the first Prime Minister in Indian history to raise "religious and communal" slogans during a public rally. Asaduddin Owaisi, who branded Modi's "Jai Shri Ram" chant as communal, never really cautioned his own brother Akbaruddin Owaisi who mocked and abused Lord Ram and his mother Mata Kaushalya. During a public rally, Akbaruddin mocked Lord Ram's mother by saying- "where all did Kaushalya go to give birth to Rama and where did Rama take birth". Apart from this, Akbaruddin made numerous hate speeches which included- "Remove Police and Army for 15 minutes and 25 crore Muslims will teach a lesson to 100 crore Hindus". Akbaruddin is still out on bail. He never faced any penalty.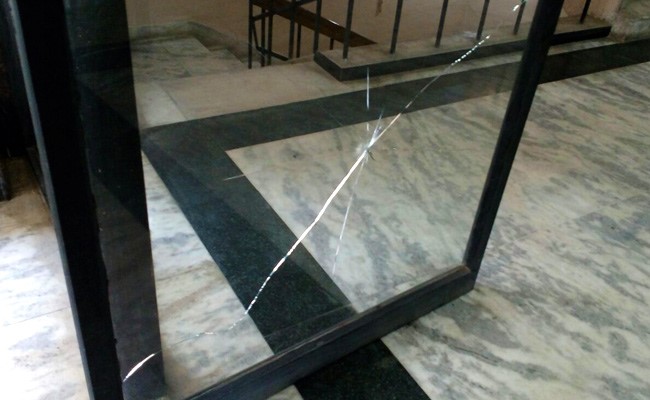 Compare this with the case of eminent journalist Rohit Sardana. A group of Shia Muslims, whom most Indians believe to be slightly more benevolent surrounded the office of "India Today" in Bengaluru and shouted- "Band karo band karo! Aaj Tak band karo!" A Shia Muslim group called Anjuman-e-Imamia led the protest rally. The windowpane of the office was broken.
They demanded apology from Rohit Sardana who has recently joined "Aaj Tak" and hosts a talk-show called "Dangal". They protested against Rohit Saradana for his recent tweet having phrases like "Sexy Fatima", "Sexy Ayesha", "Sexy Mary", etc.
अभिव्यक्ति की आज़ादी- फ़िल्मों के नाम सेक्सी दुर्गा, सेक्सी राधा रखने में ही है क्या? क्या आपने कभी सेक्सी फ़ातिमा, सेक्सी आएशा या सेक्सी मेरी जैसे नाम सुने हैं फ़िल्मों के? https://t.co/OkMFNz0AQE

— रोहित सरदाना (@sardanarohit) November 16, 2017
Numerous protest rallies by Shias, Sunnis and Christians broke out throughout the country including Hyderabad, Mumbai, Meerut, etc. More than half a dozen complaints have been filed against Rohit Sardana with the following charges: –
IPC 295A (deliberate and malicious acts, intended to outrage religious feelings or any class by insulting its religion or religious beliefs)
153A (promoting enmity between different groups on ground of religion, race, place of birth, residence, language, etc)
Section 67 of the IT Act.
Not only this, some protestors even wanted to file National Security Act (NSA) against Rohit Sardana. The same set of people never thought of bringing NSA against Akbaruddin Owaisi or Zakir Naik who are serious threats to the nation.
While Akbaruddin Owaisi's speech was deliberately communal for fanning embers of communal hatred against Hindus and abusing/mocking their deities, Sardana's tweet asked a general question – "Does Freedom of Speech only mean naming movies as Sexy Durga or Sexy Radha? Have you ever heard movie names like Sexy Fatima, Sexy Ayesha or Sexy Mary?"
Sardana's Tweet came as a response to the name of a Malayali Film, which was originally named as "Sexy Durga". The film centers around a north Indian girl named Durga. If it is about any common north Indian girl, why did the makers choose the name of a Goddess and put the word "sexy" in front of it? Did the filmmakers not know that Durga is one of the most revered deities of Hindus and we call her Maa? Why did the filmmakers not choose any common name like Priya, Neha, etc?  Was it a deliberate ploy to gain attention and draw crowd?
The director of the movie is Sanal Kumar Sasidharan, who was recently in limelight for his distasteful statement on P.V.Sindhu. He had said – "Everyone is celebrating Sindhu's achievement now. What if I spit on this? What is there to celebrate much about it?" It is not impossible for him to use such a title intentionally to create controversy and draw audiences to earn money.
Often, name of Hindu deities have been used for controversy and subtle propaganda. In the movie "Student of the Year", the song with "Sexy Radha" depicted Lord Krishna's lover Radha in a demeaning way. A Bengali movie called "Challenge" had a song with lyrics- "Krishna korle leela, amra korle bila". The phrase roughly translates to- "When Krishna does it, it is rashlila, but for us, it is crime".
In his tweet, Rohit Sardana asked the question that might have crossed many minds before. This sort of question is bound to arise when Hindus see repeated deliberate attacks and abuse on their religion in the name of Free Speech.
Renowned painter M.F. Hussain made nude paintings of Hindu deities including Durga, Saraswati, Bharat Mata, etc.. When Hussain was criticized by Hindus, the liberals, intellectuals and the media supported him and his Freedom of Expression.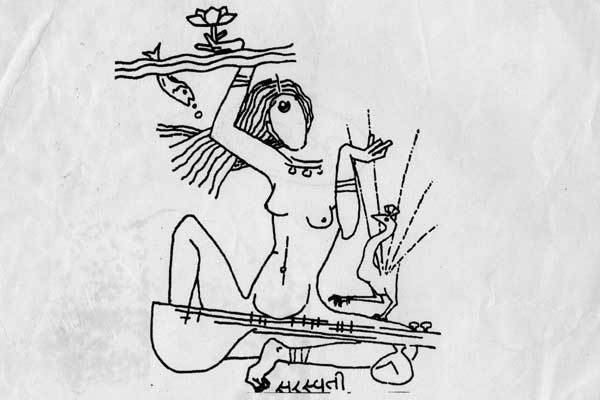 MF Hussain was not the only one to paint Hindu deities in derogatory way. In 2015, Akram Hussain from Assam made a painting, which showed semi-clad Lord Krishna in a bar, surrounded by bikini-clad Gopis. In another painting, Akram had showed Indian flag with objectionable items like liquor bottles, undergarments, etc on it. Though the Indian netizens criticized the painter, our MSM and secular brigade called if "Freedom of Expression". Later, an FIR was lodged against the painter, but we do not know yet, whether he went to jail for the act.
Tradition set by both the Hussains is still alive among the leftist minds of India. The evidence is the nude and abusive graffiti of Maa Durga on the campus wall of Jadavpur University, West Bengal- same university, which followed JNU in raising anti-India slogans.
Nude pictures of Maa Durga in Jadavpur University. Anti-national communists are hell bent to hurt Hindu sentiments. pic.twitter.com/zsdoZzDuLH

— Prasun Maitra (@prasunmaitra) August 29, 2016
Secular politicians of India follow the same brand of "Freedom of Expression". During the 90s, former Home Minister of Uttar Pradesh Mr. Azam Khan called Bharat Mata a Daayan (witch) who drinks her children's blood. Nobody surrounded his office and demanded any apology. He did not go to jail. Even today, this man continues his communal speeches, which include- "Muslims won Kargil war for India, not Hindus". His statement "RSS men are homosexuals" stirred fire and in response, Kamlesh Tiwari uttered a similar response. Thousands of Muslims came down in streets and demanded death penalty for Kamlesh Tiwari. A massive protest led to massive riot in Kaliachowk, Malda (West Bengal). Azam Khan had the right to Freedom of Expression, but Kamlesh Tiwari didn't. Hence, Kamlesh Tiwari ended inside jail.
Media Journalistss who were quick to presume that Hindu outfits killed journo Gauri Lankesh and organized meets and rallies for her, have refused to stand with their fellow journalist Rohit Sardana. The media which vocally protested against Rs. 1 crore reward on Deepika's head, retains silence when a Maulana announced a reward of Rs. 1 crore to any person who beheads Rohit Sardana. When CBI raided Prannoy Roy and Radhika Roy's office and home due to serious charges of "bank fraud", the Editor's Guild tried to muzzle the media against the government calling it a witch-hunt. The same Editor's Guild is afraid to support Rohit Sardana. The Messiahs of Freedom of Speech lost their voices when Rohit Sardana and his family receive death threats.
कई थानों में मेरे ख़िलाफ़ शिकायत कर के तसल्ली नहीं हुई है शायद. अब फ़ोन कर के, गालियों भरे मैसेज भेज कर, मेरे परिवार को धमकियाँ दे कर अगर अभिव्यक्ति की आज़ादी का जश्न मना रहे हैं अमन पसंद लोग, तो मनाएँ!

— रोहित सरदाना (@sardanarohit) November 21, 2017
ऐसे रूकती है 'अभिव्यक्ति की आज़ादी'. Whatsapp ग्रूप बनाओ. अपने लोगों से मास रिपोर्टिंग कराओ और बंद करा दो ज़ुबान! @Raheelk @TwitterIndia pic.twitter.com/QGX4NxJ2G3

— रोहित सरदाना (@sardanarohit) November 26, 2017
Dear @Uppolice @upcoprahul Kindly take note. He is one of the hundreds sending threatening texts.@myogiadityanath @rajnathsingh pic.twitter.com/ErbuHTE4H5

— रोहित सरदाना (@sardanarohit) November 24, 2017
It was however heartening to see Union Minister Kiran Rijiju extending his support to Rohit Sardana and lashed out at the secularists for their hypocrisy.
Such threats are unlawful. Will follow up with State Police for action. What's more disheartening is those laudest pseudo liberal secularists & fake champions of freedom of expression are silent? https://t.co/qjDyxjIiCj

— Kiren Rijiju (@KirenRijiju) November 24, 2017