It's a case of gross human rights violation. A popular leader of Kashmir has been under illegal detention for the last five years without proper trial. His crime was to demand compensation for the thousands of villagers who are displaced due to a "man-made natural calamity". Interestingly, when every instance of human rights violation—alleged or fabricated, are regularly reported from Kashmir it is indeed a wonder that this particular case has been singularly left out.
Why?
The person I am referring to is Baba Jan and this matter refers to Gilgit-Baltistan that is a part of Pakistan-occupied Jammu Kashmir (PoJK). Yes, it can be argued that the issue is not "from" India and that Pakistan has a track record of human rights violation and that this is just one of those violations. Well, the basic fallacy in this argument is about acceptance that Gilgit-Baltistan is a part of Pakistan. It is not.
Gilgit-Baltistan is an integral part of Jammu Kashmir and when Maharaja Hari Singh, erstwhile ruler of princely state of Jammu Kashmir, signed the Instrument of Accession on October 26th, 1947 the entire state of Jammu Kashmir became an integral part of India. Though Pakistan continues to occupy large swathes of Jammu Kashmir, which includes Gilgit-Baltistan, that region belongs to India and all developments should be reported by the Indian media.
Let's first understand this issue about Baba Jan and why it should concern us.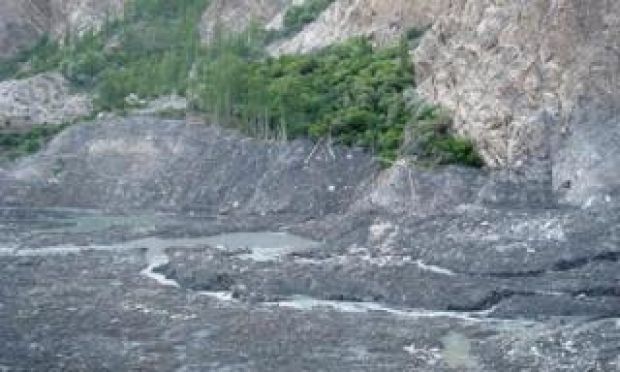 This matter dates back to January 2010, when a massive landslide hit the Hunza Valley in Gilgit-Baltistan that killed around twenty people and blocked a portion of River Hunza. Due to this landslide a huge artificial lake was created that submerged several villages in Attabad.
This landslide was the result of massive on-going construction activities under the CPEC (China-Pakistan Economic Corridor), thus making the landslide as 'man-made' rather than a natural occurrence. The CPEC is a $46 billion (Rs 2,96,400 crore) project that runs through Gilgit-Baltistan wherein massive construction activities, excavations and detonation of mountains continue unabated.
Baba Jan, the local leader, and the villagers felt concerned and rightly so. Their concern was that this newly-formed man-made lake in Hunza Valley (due to CPEC construction activities) might further overflow and submerge several other villages. Baba Jan led the villagers to apprise about their apprehensions to the Pakistan government, since Pakistan continues to illegally occupy this part of Jammu Kashmir and is the de-facto colonial master of Gilgit-Baltistan. His worries went unheeded and six months later in June 2010 the overflowing water submerged two more villages in Attabad.
Protests and demonstrations under Baba Jan's leadership continued through the year and yet nothing moved on ground.
When in August 2011 a Pakistani minister came to Hunza Valley the angry locals blocked the road in protest. The Pakistani officials who are overly keen to prove to their Chinese masters that they are in full control of Gilgit-Baltistan are ruthless in supressing any forms of protest in POJK. As a result the Pakistani Police immediately swung into action to disperse the mob and in the mayhem a father and his son were shot dead by the police. This was followed by blanket arrests of protestors across the Hunza Valley that included Baba Jan.
In September 2011, Baba Jan along with sixteen other protestors were sentenced to seventy one years in prison. Ironically, since Pakistan has never recognised Gilgit-Baltistan as its province so Baba Jan could not appeal against this ruling in Pakistan's courts. Yet Pakistan treats the area as its colony so it rules the entire POJK through proxies. All institutions across POJK, courts included, follow the diktats from Islamabad.
Last year in June a Gilgit-Baltistan court ruled against Baba Jan and justified his detention in an effort to muzzle the voice of people across POJK so that CPEC activities continue unhindered.
After several delays, the appeal against Baba Jan's illegal custody that was scheduled for hearing at the Supreme Appellate Court (SAC) Gilgit-Baltistan on May 25th, 2107 has now been adjourned. The adjournment came on the request of the advocate general of Gilgit-Baltistan who came ill-prepared to argue in the case.
The court has now fixed the next hearing sometime in the first week of July after Eid.
However, the tricky and most disturbing aspect in this saga is that Baba Jan is a member of the socialist Awami Worker's Party and is seen as a communist leader of Gilgit-Baltistan. Around 400 eminent communists and their sympathisers from France, Germany, Ireland, Switzerland, Tunisia, Malaysia and other countries across the world have openly supported Baba Jan and have signed a petition urging Pakistan to free him. This list includes the likes of Naom Chomsky, Sami Amin and Gilbert Archer, among several others.
Even as the communists and their sympathisers across the world rally around Baba Jan the "illustrious" communists of India are nowhere in the picture. The likes of Sitaram Yechury, Prakash Karat, Brinda Karat, Arundhati Roy etcetera who are quick to voice their opinion on anything and everything related to Kashmir have maintained an eerie silence on the illegal detention of Baba Jan.
And the reasons are not hard to fathom. Indian communist leaders are hand-in-glove with the separatist leadership of Srinagar. The Hurriyat Conference, the JKLF and all other separatist parties based in Srinagar are the de-facto allies of Indian Communist parties. So, the Syed Ali Shah Geelani, Mirwaiz Umar Farooq, Yasin Malik and others are their brothers-in-arms. These Hurriyat leaders operate on the funds and directions from Pakistani establishments and they never-ever dream of going against the interests of Pakistan in Kashmir.
Ditto in the case of Baba Jan.
So what if Baba Jan is a communist leader of Gilgit-Baltistan who is demanding rightful compensation from Pakistan. If Islamabad feels that Baba Jan is wrong then in the eyes of Hurriyat and Indian Communists he ought to be wrong. Rather than take a principled stand where Indian commies will have to answer some tough questions they have chosen to maintain a weird silence on the issue.
And given the vice-like grip that Communists have on Indian media it is quite easy for them to black out news that is uncomfortable for them or puts them on a sticky wicket even if it's about one of their own comrades across the line of control in Pakistan-occupied Jammu Kashmir.
Baba Jan's case has been adjourned till the first week of July and given the opportunist stance of Indian communists it would be good for him to re-think his ideological stance once he walks free.