We applaud the efforts by Modi Govt., bringing PSUs back on track especially, Mr. Ravi Shankar Prasad, Law & Justice, Information Technology Minister of India, BSNL / MTNL back on track. In fact, reporting a positive operating profit for BSNL definitely shows that things are moving in the right decision. Primarily, as a citizen, I am of the opinion that PSUs should be profitable which will reduce budgetary support from the Government and ensure tax payer monies are not used for running white elephants.
This article might seem like a hasty write-up, but I would like to get straight to the point; where I see huge opportunity for at least BSNL in PUNE to make good profit.
BSNL has many large sized old office in Premium areas of CITY, for example in city of Pune, It has some I guess 2 acre or 3 acre plot of OFFICE in Model Colony, Pune (most prime location) and Bajirao Road, (another prime locality). Now, the average selling price of the home in that area is ~Rs. 10,000 to ~Rs. 15,000 per sq. ft. I propose that it set up a proper technology center in the outskirts of city and put up small satellite offices and service center across the city wherever necessary. 
Now, this plot can be given on Joint Venture basis for development to say 'NBCC' (a government organization) to develop project and sell to people and giving out marketing & sales of this project to agencies such as JLL, Knight Frank, etc. How will BSNL benefit from the same.
Project: BSNL – NBCC
BSNL: Joint venture land partner
NBCC: Construction partner
JLL / KF etc., : Sales partner
In fact, for such a project, there won't even be need to do sale efforts, the government can float a sales plan on first-come-first-serve basis to existing highly paid Government officials, who can book the houses there. 
Now, the following financials can roughly provide an idea as to kind revenues that can be made.
Project area statement: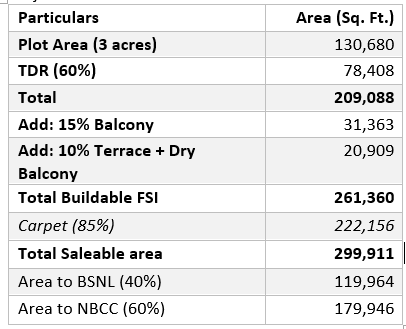 Expected Project Financials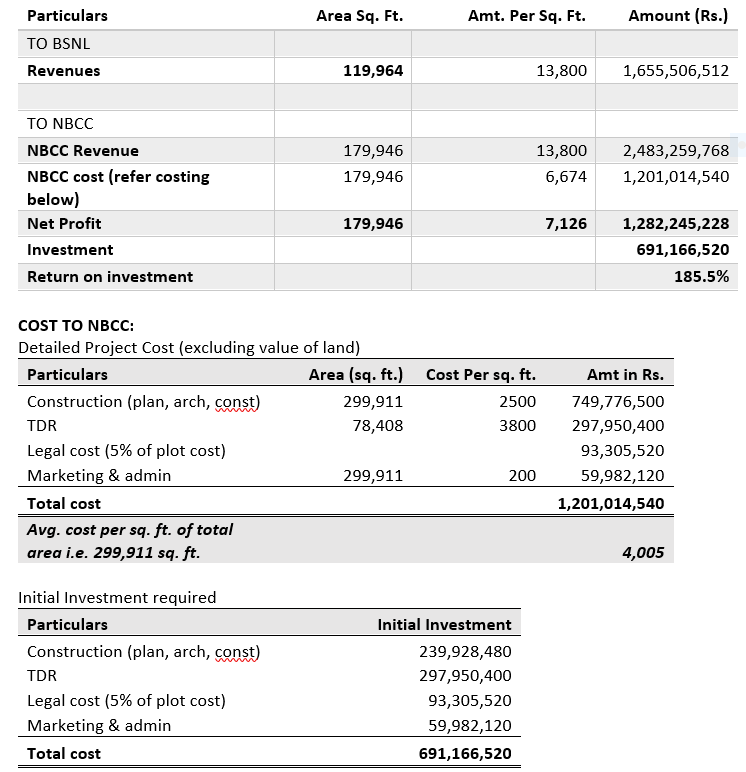 IMPACT:
NBCC:
As seen above, for the said project NBCC would have to invest INR 69 cr., which after all costs and revenues, NBCC would earn a profit of INR 128.0 cr., in a span of say 3 years. Thus, NBCC would make revenue of INR ~250 cr., expenses of INR 116 cr., and profit of INR 132 cr.  "NBCC had yesterday reported a 31.5 per cent increase in its consolidated net profit at Rs. 44.08 crore for the quarter ended June 30, 2015".
BSNL:
Assuming a selling price for the project is INR 13,800 per sq. ft., and BSNL is allotted an area of 119,964 sq. ft., then it can make INR 124.16 cr., from the project. Now, this is possible from one PLOT in MODEL COLONY, PUNE.
Benefits to BSNL:
This project is say replicated across 10 cities wherein it is sitting on PRIME land, it can monetize the same and use the same for developing infrastructure.
BSNL can put up new proper Data Center with only satellite offices across cities, thus making BSNL's balance sheet asset light
Converting certain land into rent yielding commercial properties
Under the above method BSNL is benefitted from its prime land bank and new central office. Currently, in PUNE city there are broadband provider who are operating from 1000 sq ft., office and providing speed at 10x more fast than BSNL; the proceeds generated can be used over there. B.S.N.L needs to compete with everyone else. BSNL as a company needs to do a quick study (I emphasize on QUICK) to see how the private players (Hathway, You Broadband, etc.) having grown fast and where BSNL lacks and plug the gap. The aim is to make BSNL number one high speed internet provider.
A proper IRR-based study needs to be conducted to assess infrastructure development and if BSNL is not much profitable, make a BOND ISSUE at higher rate of interest. But, a detailed financial working like private company seeking finance from a BANK should be done and acted upon fast.
The world wants to come to INDIA, we are the only one with HUGE GDP growth possible. We need to grab this opportunity.
Recently Mr. Suresh Prabhu has announced that they are planning to monetise the railway Land and Air. This will be hugely efficient and enhance profitability of the companies; and create sustainable rent generating income assets for the Government.