Post the announcement on the 1st Sep 2016, there has been sharp fall in the stock prices of the telecom players with:
Bharti Airtel down 6.37%
Idea Cellular down 10.48%
Reliance Communication down 8.81%
On an aggregate basis, there was Rs. 13,166 cr., erosion in the market capitalization.
What does this point to?
The data traffic of the top 3 telecom players viz., Bharti, Idea & RCOM, shall see 50% decline in FY17 and 40% decline in FY18. This despite an assumption that JIO is able to garner a 3.5 cr., subscriber base over the next two years against the company target of 10.0 cr.
The Sep to Dec 2016 quarter shall be tumultuous to the existing players; even if half their data subscribers move to JIO, there will be a 50% fall in the data revenues for the company. This shall have a multiplier impact on earnings; as already the voice APRUs for the company are falling; and the revenue & margin bet remains on data expansion. The voice revenue per minute for Bharti & Idea was 38 paise and 36.5 paise in Q1FY15; which has fallen to 33.9 paise in case of Bharti and 34 paise in case of Idea. Further with the existing companies increasing data availability to the subscribers
In case of Bharti Airtel, there can be a fall in revenue in the range of 8.0% to 21% over a period of 3 years; and near halving of their PAT margin. Furthermore, in case of Idea Cellular, the current drop in share prices implies an 11% to 30% fall in revenues and halving of profit after tax.
For some, this might be an opportunity; however, I would wait for the storm to settle on the telecom operators.
What's the current market share of these players?
As of Q4FY16; the following chart shows the market share of existing players: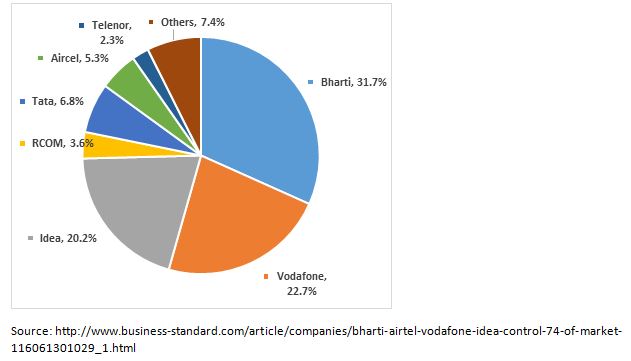 Together Bharti, Vodafone and Idea control 74% of the overall market. In FY16, the industry's adjusted gross revenues rose 12.3 per cent y-o-y to Rs 147,600 crore, says ICICI Securities, led by the jump in the top three's adjusted gross revenues.
As per Gartner, there are currently, 284 mn 3G and 81 mn smartphones; of which 52% are connected phones. Currently, the 4G smartphone pricing is less than USD 50 or Rs. 3500 vs., an year earlier prices USD 100 i.e. Rs. 7000. This shall bring to play a huge degree of affordability. By 2020, the overall market size of the smartphone is expected to touch ~450 mn from the current 284 mn handsets. This presents a sizeable opportunity for all the players. In fact, so even with 100 mn or 10 cr subscriber base targeted by Reliance and the overall market reaching 450 mn or 45 crores; lets say within a span of 5 years. The market share shall be as under:

CONSUMER IMPACT
Right now, I am already seeing interviews or articles pointing to Bharti vs. Jio as the return of 2003, when Reliance Infocomm or RCOM had launched its handsets and services in CDMA. In a short span, RCOM hit a high market share; but the untested nature of CDMA services and bundling with Mobile handset led to RCOM losing its market share quickly; and in the end leading to industry decline of ARPU. From, a customer's perspective, this was good, and the ARPU or pricing has seen a fall since then.
Further, one more such change occurred with Tata DoCoMo launching the 'seconds-based' payment vs the 1 minute or 3 minute; which again helped the consumer; initially Tata DoCoMo garnered market share; but again lost to the existing players i.e. Bharti & Idea. This was again a gain for the customers as everyone move to per second billing.
However, in both the above cases, the incumbent i.e. Reliance Infocomm and DoCoMo had inadequate network infrastructure, which worked in favour of the existing players; while in the current case JIO has huge infrastructure in place.
But, I guess the learnings of RCOM and DoCoMo entry and their disruption in the market; created consumer gains; which is the most important part. I believe, the JIO launch will create such similar gain. Its an industry transformative act.
WHAT MORE IS IN STORE FROM RJIO
I read a report by IIFL which said that RJIO is offering content package at Rs. 15,000 per annum which is tad higher than the existing players. As per the report, a combination of Ditto TV, Hotstar can be had at Rs. 10,000 per annum; while the existing DTH providers come at ~Rs. 10000 p.a. for premium packages fully loaded. I beg to differ on this part, as there is huge technology upgrade which I witnessed at the Make in India Mumbai exhibition about 6 months back, where they gave a demo of full bouquet of RJIO services.
The company will replace the entire TV and entertainment experience. Firstly, the company plans to gives us a set top box with which will be fibre optic connected. This set top box shall have a talking remote or voice assisted remote. The set top box like Chromecast device shall transform all TVs into SmartTV; so even if you don't have an internet enabled TV, still you will get an Internet enabled TV.
The best part of remote is you don't need to remember channel number, just speak your television channel to the remote say STAR PLUS HD and the name shall come on TV and you can click that. Further, if you forget the name of TV channel, you can just say the name of the TV show, say 'SASURAL SIMAR KA' (Yes people watch that show); the name of TV show, its time and channel will come on TV; so you may go to that channel or you may add reminder for shifting to that channel. Further, the entire JIO platform is Android based so its easier to use and adopt.
There is the usual TV show recording or re-watching any TV show within 7 days. Additionally, there are Multi-player online games like Call of Duty etc., which you can play since we have Fibre Optic Internet. One of the major transformation will the home land-line.
There will be a Reliance JIO home landline number / device, which will be synced to all the existing phones in the house.
So, once you are at home, you don't need to use your existing network like IDEA or AIRTEL. You can dial from your mobile handset via the RELIANCE connection which is at home. And yes, calling is free as we are paying just for data. Reliance JIO is yet to unveil as these services. The connected home from RJIO is the future.
That's why in the earlier article I had mentioned that the Tata Sky or DishTV or anyone else like You Broadband etc., are history. The consumer will be the king; and yes the large companies like Bharti, Vodafone, Idea will be forced to innovate.
All would depend on two variables, viz., ability of RJIO to deliver on services; which seems plausible given the investment in infrastructure already undertaken; and ability of existing players to checkmate RJIO. However, in their fight the consumer shall be a winner.
Source: Articles from Business Standard, Economic Times, Research Reports