Abu Musab al-Zarqawi, Anwar al-Awlaki, Abu Bakr al-Baghdadi, Osama Bin Laden, Hafeez Saeed, etc. are popular terrorists who have used video sharing sites to spread their hatred. Some of them have been reportedly killed, but remaining ones still use YouTube and social networking sites as their tools. Now, Zakir Naik has joined the list of above-mentioned leaders, as terrorists involved in Bangladesh cafe attack were his followers. Even Hizbul Mujahideen terrorist Burhan Wani was one of his followers.
Naik calls himself a religious scholar. His speeches are banned in several countries, including super-secular ones like Canada and the UK. Even the Malaysian government has also banned Naik because authorities suggest his speeches can cause racial tension in the country. His TV channel-Peace TV-has been banned since congress regime. As I am compiling this piece, news from Bangladesh is that Zakir Naik has been banned there as well.
But, who needs TV when you have Facebook and YouTube to deliver content directly to the user's smartphone?
Maharashtra police's hypocrisy during Con-NCP rule
People in India have been critical about Zakir Naik's speeches since several years.
Sena leaders, right-wing activists, NGOs, as well as office bearers from BJP Maharashtra Minority Cell, have filed several complaints with Mumbai police between 2010 and 2013. But, no noticeable action was taken on complaints about his videos on YouTube.
Back in 2012, Shiv Sena-Yuva Sena Pune's Swapnil Shrotri had filed a complaint about two of Naik's FB pages with the cyber cell, Pune.  The case was forwarded to Kothrud police and Sena's team interacted with PI-Jadhav, a lady from Erandavna police (Pune). Cops replied suggesting that case needs to be filed in Mumbai as the concerned pages are managed by someone in Mumbai. To put it in simple words, Pune police got rid of Pune Sena's complaint.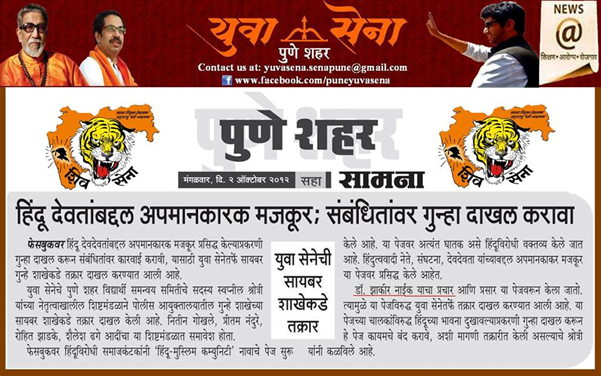 News story about Sena's complaint published in Samna
Later, Sena's IT cell from Mumbai also logged their complaint about Naik's FB pages that had derogatory posts about Hindu Gods, but nothing was done.
Police did not react, but perhaps, Zakir Naik was scared of Sena's agitation. He sent an apology letter to Shiv Sena mouthpiece-Saamna's office in September 2012 and apologized for his remarks about Lord Ganesha. This not only exposed Zakir Naik, but also exposed cops who were not willing to act against this so called religious scholar.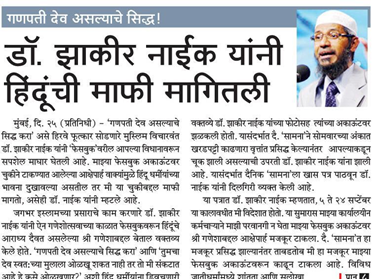 Different law for Hindus and Muslims
A cop from Pune who interacted with me on condition of anonymity in 2012, (during Congress-NCP regime) said seniors have asked them to not to entertain complaints against Zakir Naik. Seniors asked their juniors to blame Facebook for not responding to complaints against Zakir Naik's Facebook pages.
Surprisingly, the same Maharashtra police officers were prompt to block all the websites that uploaded documentary "Innocence of Muslims" in India. They also displayed their biased behavior by quickly arresting Hindu Rashtra Sena's Dhananjay Desai and keeping him behind the bars (on NCP's instructions) even when there was no direct evidence of his involvement in Mohsin Shaikh's murder. Desai and several of his supporters are still in jail and reports suggest that Pune police has failed to prove their point in court during the last few hearings. He is in prison for hate speeches against Muslims. Then, why was Zakir Naik allowed to and is still roaming free?
Under NCP MLA Jitendra Awhad's (Ishrat was innocent fame) pressure, the Thane Police Cyber Cell managed to get anti-Muslim Facebook posts and YouTube videos blocked within 24 hours during Con-NCP's rule. They also arrested people who upload derogatory content about Prophet Mohammad. But, same cops say 'NO' when it comes to taking down anti-Hindu content.
Top cops, like former Mumbai commissioner Satyapal Singh, who had shown his willingness to act against Zakir Naik were sidelined by NCP's Maharashtra home minister. Dr. Satyapal Singh is now BJP's MP from Baghpat (UP) and he has recently agreed that Congress-NCP government at center and state had completely ignored his report about Zakir Naik's activities in 2008. Singh's report mentioned about the transfer of large amount of funds in the name of donations, hate speeches, and donation money used in illegal conversions.
At least the BJP government should act tough
People with adequate knowledge about the way law enforcement agencies in the US work can easily tell you that agencies often detain and interview individuals who show sympathy for terrorists.
Bangladesh terror attack investigation has revealed that Zakir Naik's speeches played an important role in radicalizing terrorists. It's time for the Indian government to stop proving its secular credentials and act against those who show support for terrorists before it's too late.
Even under Modi Government, Facebook pages like Hindu-Muslim unity are still active and posting derogatory posts about Hindu Gods.  On the other hand, websites that expose the truth about Islamic terrorism have been blocked!
This makes me think if DoT, Home Ministry, and Telecom Ministry are still run by secretaries appointed by Congress ministers.
The central government should look into this matter and ask YouTube and Facebook to take down content that provokes Muslims for violence in the name of religion. They should also ask social networking sites and video sharing sites to block content that disrespects Hindu Gods.
Rajnath Singh should not hesitate to take action against politicians and organizations that offer free legal and financial support to Muslim terrorists. Today, leaders like Asaduddin Owaisi are urging Muslims to declare Jihad against RSS and BJP. His party is also offering legal support to individuals accused of working for IS.
If you think this issue is not serious, you should check the list of terror accused individuals defended by Jamiat Ulema Hind (Maharashtra)'s lawyers in court to put more light on this trend.
Until today, no terrorist or accused has agreed about being radicalized because of Owaisi's speech. But, if ignored, tomorrow he might ask his followers to declare jihad against Hindus.
What can you do to change the situation?
Complaints have been filed in various states against Owaisi's decision to offer help to terror accused. There are hundreds of them against Naik as well. People are eagerly waiting to see if honorable home minister will take serious action against his Lok Sabha colleague who aims to help terrorists and trigger violence.
Maharashtra's CM has asked Mumbai police to conduct a probe on Zakir Naik's speeches. But, will state's police force conduct 'honest' probe against the man whom they were protecting during Congress-NCP regime? Mumbai police officials even denounced rapes of female cops during Azad Maidan Riots in 2012 and failed to arrest or to even touch most of the culprits because they were all Muslims.
Asking Mumbai police to investigate may not prove to be appropriate because Zakir Naik is operating from Mumbai, right under police's nose for several years. If the force is reliable, why didn't they act against the religious scholar in the past when he himself agreed that he had insulted Lord Ganesha? On whose instructions were all the complaints ignored?
Even if you are not a legal expert, you can simply write email or letter to Ministry of Home Affairs,  Ranjeet Patil (MoS, Maharashtra), Shri K. P. Bakshi, IAS, or Shri Devendra Fadnavis demanding NIA probe against Owaisi and Naik's activities.  An investigation should also be launched against organizations like Jamiat Ulema Hind.