Vishal Veeru Devgan, the man who has played Othello and Magwitch onscreen; is who we know as Ajay Devgn. When Ajay debuted in the nineties, this writer was interested in heroes of another type in which Disney and Jungle Book were ultimate entertainment. But slowly as cinema begun to take centre stage and Devgn's choice of movies exploited his acting prowess to the maximum, I have begun to admire and respect his journey.
Devgn's debut Phool Aur Kaante, as the name suggests was a commercial pot-boiler. Ajay Devgn achieved something which is only dreamed by creatives and actors. An award for his first film! Phool Aur Kaante got him the Filmfare for best debut and though the film will probably not make it to the filmmaking case studies or study materials for students; one cannot forget Devgn's (who was Devgan at that time ) entry , a split on two moving motorbikes. The scene might not have much logic, but was the perfect launch pad for a man who would go on to play hero for the next few decades. His next film went on to be one of the biggest grosser of 1991. For the next few years, Devgn's films were thorough commercial movies, some that went to be massive hits, but not necessarily very rich on content and realism. But then that was the nineties and filmmaking was very different from what it is now. Interestingly it was around the same time that two things happened. One, Devgn and his co-star Sunil Shetty worked on the massive hit Dilwale. Little did one know that almost two decades later, his wife Kajol would work on another Dilwale. Also, around this time Ajay Devgn let go of an offer to star in Karan Arjun, the immensely popular punar janam drama; because his dates were clashing with Vijaypath. Vijaypath was commercially successful and got Tabu her first Filmfare award. This was also the same movie that featured the famous foot tapping number Ruk Ruk Ruk and probably one of Alisha Chinai's first Bollywood hits.
Around this time he actually met his lady love, Kajol, while filming Gundaraj. As Shakespeare says, what's in a name? Let be about Gundas as long as it is also about love!
Not a fan of Devgn's hairstyle and choice of films of those days, this author greedily grabs his films from the latter half of the nineties. There was a remarkable change in choice of cinema, the portrayal of characters and the critical acclaim that Ajay Devgn went on to earn from here on. Yes, the commercial films continued and they are an essential part of any superstar's career graph. But with them came the character roles and thankfully they came in regular intervals. In 1996, 1998, 1999, and 2001 he was nominated for Naajayaz, Zakhm, Hum Dil De Chuke Sanam and Lajja but the Filmfare did not come his way. Well, this is probably what they call rigged awards. From the tough cop in Naajayaz who has to take action against an estranged father to the dark and powerful character who has chosen the untrodden path to fight social evils in Lajja; Ajay Devgn had a lot to offer in this period.
It is also ironic that he missed the Filmfare for Zakhm but won the much coveted National Film Award as best actor for the same film. And probably Devgn did great justice to his Ajay Desai- a man with layers of a son, a husband and would be father. Mahesh Bhatt's heart-wrenching tale, not only held a mirror image and shame of our society but gifted us an actor who had just begun giving us quality performances.
Hum Dil De Chuke Sanam which was in the news for a lot of off-screen romance had an Ajay Devgn who did more talking with his eyes than with words. And women fell not only for Vanraj but also the man who portrayed the character. The honesty in Vanraj's character oozed out of Ajay Devgn and went on to be one of the better characters of the nineties.
When he was giving us these stellar performances, Devgn also worked on Ithihaas with Twinkle Khanna. Yes. That same movie where Raj Babbar's character Thakur lusts on the Khanna girl. I am as shocked as you are. But then we have another delicious and romantic Ishq where Devgn shared screen space with Aamir Khan, Juhi Chawla, and Kajol. Even though it was the rich girl, poor boy saga, the elements of humour, friendship, and great onscreen chemistry made Ishq a sure hit.
And around the time, the man had perfected the art of romance onscreen. With Pyar Tho Hona Hi Tha, the remake of French Kiss; Ajay Devgn's and Kajol's chemistry did wonders.
2002 went on to be a great year, not only for Ajay Devgn but also for his fans. The actor had set out to experiment with various roles and the result was something no cinema lover would complain about. From the underworld gang leader Malik in Company (that won if the Filmfare Critics choice for best actor) to the almost deranged lover and psychopath in Deewangee that won him the Best actor in a Negative role, Ajay Devgn was set for character roles. 2002 was also the year when multiple versions of Bhagat Singh movies were made and only Rajkumar Santoshi's Legend of Bhagat Singh stood apart. With Devgn's brooding glance and an aggressive and committed performance he not only did justice to the revered revolutionary but also won the National Award yet another time. The movie also went on to win the best Hindi feature film at the National Film Awards.
Khakee gave him an opportunity to experiment once again, and the villain onscreen succeeded in even making his fans hate him. Around this time his association with Rohit Shetty also started with Zameen and went on to create huge grosser like Singham. Devgan's tough cop acts in Singham and Gangajal would go down as one of the best in contemporary commercial cinema. With Gangajal was also written a long term association with Prakash Jha and Devgn's varied roles in Raajneeti and Satyagraha gave more power to Jha's style of filmmaking.
In Raincoat, Ajay Devgn did justice to the quintessential Rituparno Ghosh protagonist. Adapted from O'Henry's The Gift of the Magi , this poetry in motion went on to win another National Film Award.
However, it is Omkara that continues to be this author's favourite Ajay Devgn film. Bharadwaj has an art for retelling Shakespeare and when Othello gets a face of Devgn, there is little to complain. Omkara premiered at the Canne Festival and Bharadwaj won the special jury award at the National film awards. Though Devgn won the best actor at Star Screen awards, the pair of Iago and Emilia; Saif and Konkona stole the thunder at most award shows. This also went on to show a growing maturity in Hindi cinema in which the supporting actors were more lauded.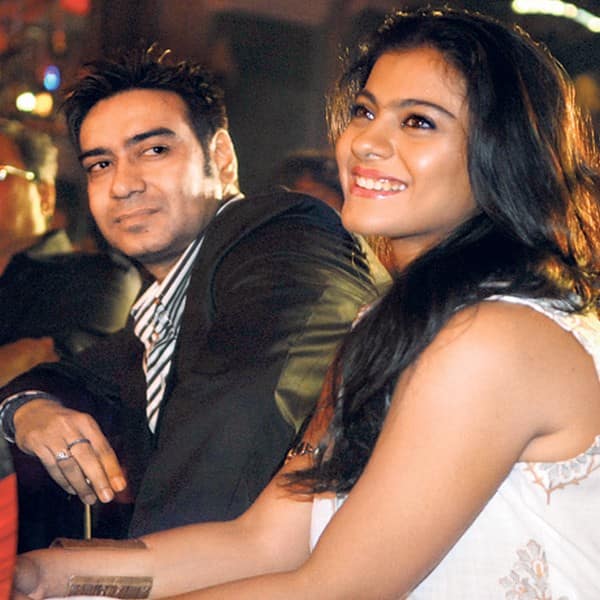 The past decade has seen Ajay Devgn take up all sorts of projects. His directorial debut with wife Kajol in U, Me Aur Hum was a dampener. The patchy screenplay with a constant reminder of Nicholas Sparks' Notebook did not go down well with many movie critics. Then of course, there were films like Himmatwala that needed a lot of Himmat to sit through and Action Jackson that has nothing much to talk about. Singham to Son of Sardar were mass entertainers. Drishyam recently has rekindled the hopes of Devgn fans.
Today as the man turns 46, we know he has more to offer and hope to see both mass entertainers and character roles. The man who wasn't scared to stand up for a cause and take on YRF, the man who has done comedy, Bollywood herogiri and also the brooding protagonist only grows with each film. We at The Frustrated Indian wish him a very happy birthday. May he keep adding to his bouquet of films.