Defining Kapil Dev, the cricketer is the most tedious task for a cricket follower, being the only Indian cricketer who could score 175 of 138 deliveries, hit four sixes of an off spinner to avoid follow on and at the same time become the then highest wicket taker and lead a relatively weak spin dominant team to a World Cup Victory on English Wickets which would then seam all over the place. Kapil Dev; thus is the true polymath of Indian Cricket History. Thus, here is an attempt on his 57th Birthday to analyse Kapil, the fast bowler, Kapil, the batsman who could take the leather off the cricket ball and most importantly Kapil, the skipper who achieved the unachievable of winning the World Cup for India.
Kapil Dev, the Legendary Fast Bowler:
India entered the arena of International Cricket in 1932, or in other words, India found a new universal religion some 8 decades ago, in this long journey we have surprisingly produced a genuine fast bowler, the only fast bowler who was a fast bowler in a fast bowler's body, while other Indian pacers struggled through their injury torn careers, the Haryana Hurricane was the only Indian Fast Bowler who went racing through his whole career and never becoming limited to a typical 'line and length' bowler.
Until 1970s, the Indian Fielders would roll the ball to take off its shine because of triplet and quadruple spin webs; it was only when a phenomenon called Kapil Dev came in the picture that the Indian Fielders had to learn the art of maintaining the shine of the ball. India had found a bowler who could give the Aussies, the West Indies and the English a taste of their own medicine, bouncing their batsmen on their bouncy swing wickets.
But Kapil was not one of those who depended wholly on pace, he had an edge cutting out swinger and a toe crushing in swing Yorkers. Throughout his Career he took 434 wickets in Tests which was then the record of highest wickets and 253 in ODIs at an average of 29 and 27 respectively making him a legendary cricket only on account of his bowling itself even if he would have not been an all rounder, he would have qualified as a legendary cricketer.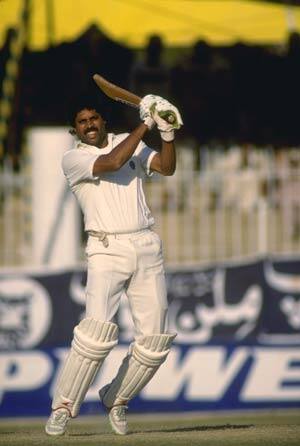 Kapil Dev, the Hard Hitting Batsman:
Today cricketers use the most sophisticated of protective technology and the Aussie Pitches for instance have become much less draconian than what they were in Kapil's days, even then we get to see the most talented of modern batsmen dance to the tunes of superfast bowlers when they face chin music, this itself gives an idea of how great and multi skilled Kapil would have been in his heydays when he hooked and pulled some of the most dangerous fast bowlers over the boundary fences without a protective gear. At a time when India had no idea of how to bat in the limited over cricket, to have a batsman scoring at a strike rate of 95 in every 100 balls which was something unimaginable given the standards of the 80s and 90s, Kapil Dev, thus, started the trend of hard hitting style of batting not only in the Indian context but also on an international level.
He ended his career with an average of above 30 in Tests and 23 in ODIs, this is too good an average for a bowling all rounder. Maybe he would have made it to the Indian team even if he was not a bowling hurricane altogether. Thus, he proved to be the only genuine all rounder that India has produced.
Kapil Dev, the versatile Skipper:
The phenomenal all rounder was the leading face behind one of the golden moments of Indian Cricket, the 1983 World Cup Win, a tournament where India was probably the weakest of all the contestants, no one would have imagined that at the end of it India would be holding the World Cup, and probably India could have never won it had it not been for a hard hitting batsman who scored 175 off 138 balls against Zimbabwe when India had already lost 5 wickets for less than 20 runs or if a Kapil Dev would not have taken a stunner running down right back towards the boundary to get rid of Sir Vivian Richards who was going hammer and tongs and had almost taken away the game from India. So, in Kapil Dev we had a skipper who had the intent of leading from the front.
Post Retirement Life:
Post Retirement, Kapil Dev has been known for giving frank and blunt comments about anomalies in the cricket administration, thus taking his aggressive intent off the field too. He has also done his bit in Charity.
Kapil Dev has also served as the coach of National Cricket Team and thereafter, as the chairman of the National Cricket Academy. He was also associated with the ICL though he had to resign as BCCI was apprehensive of a conflict of interest.
Kapil Dev has also been decorated with major awards such as C.K. Nayudu Lifetime Achievement Award and Arjuna Award, he has also been decorated with Padma Shri and Padma Bhushan.
The statistics of Kapil Dev's career are no doubt astonishing but they still do not explain in entirety his contribution to the Indian Cricket. The statistics do not explain that he was the first Indian Bowler who could bounce the overseas cricketers and give them a horrid time and yet bat better than them in their backyard, they cannot also explain that in a country which has only produced fast bowlers who have ended up becoming medium pacers, Kapil was the only pacer who finished his career as a pacer.
Its up to the cricket administrators to produce long lasting athletic fast bowlers and continue Kapil's legacy, last one decade has seen India produce one Series wonder but none looks promising enough to be the next Kapil Dev even if we only consider his bowling aspect, though a Kapil Dev maybe takes birth only once but we do have the potential of producing a pace battery who at least are actually fast bowlers in fast bowlers' body.