This is a wonderful opportunity for me to rant about a topic very close to my heart. Personally I didn't like the trailer of Bajirao Mastani at all. It's simply too historically inaccurate.
Bhansali is known for his grandiose sets- and his Marathas are simply too glamorous- for want of a better word- to be relatable & believable. Look at the sheer opulence of the sets in Bajirao Mastani; in reality, the Peshwai Court- though hardly niggardly- were almost permanently cash-strapped.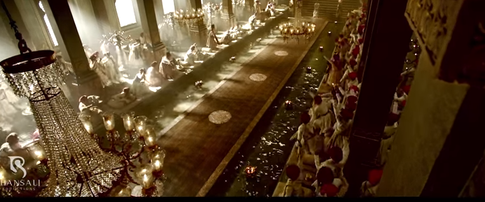 Even reparing Shaniwar Wada after the Fire had been an exercise in futility for this reason. Thus, scenes like this- with hundreds of superfluous lights and stagnant water fountains- would've been unbelievable.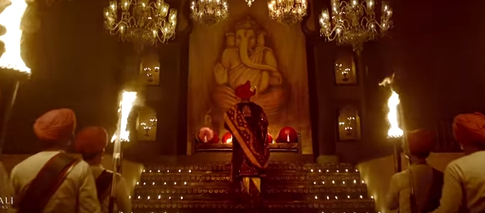 And then is the same old grouse of mine- battle formations. For some reason, no Indian director/ writer/ producer seems to have understood the concept of Battle formations.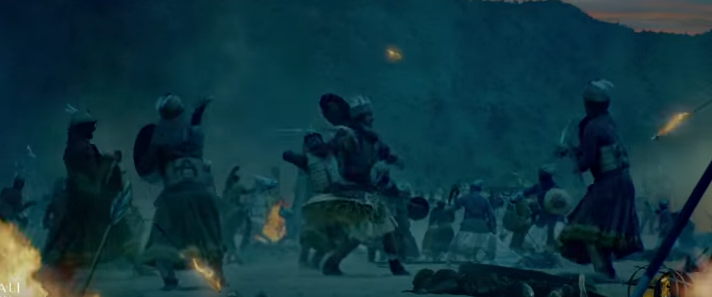 Sights like this simply weren't being seen in India after the 1400s. Indian soldiers fought in line formations- marching in step, rolling out the cannons, firing the rockets, and pouring shot after shot into their opposition, Swords were exclusively for shock troops- and while iconic- were never the primary offensive weapon; artillery was. And speaking of weaponry.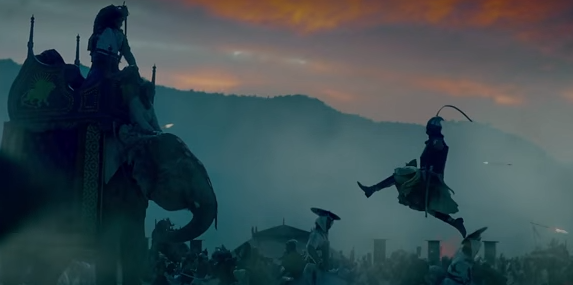 The guy on the right is wielding an Urumi- a sword which would've never worked against a guy wearing a sweater- let alone the heavy anachronistic mail Bhansali's Marathas in Bajirao Mastani are packing. And besides- even ignoring the fact that these two guys- as generals of their armies- would've had no business fighting mano-a-mano in the first place, what on Earth could've possessed them to go into battle without a nice pistol?
It was the 1600s. Guns had been around in India for centuries! This was what the average mid-16th Century Indian infantryman looked like:-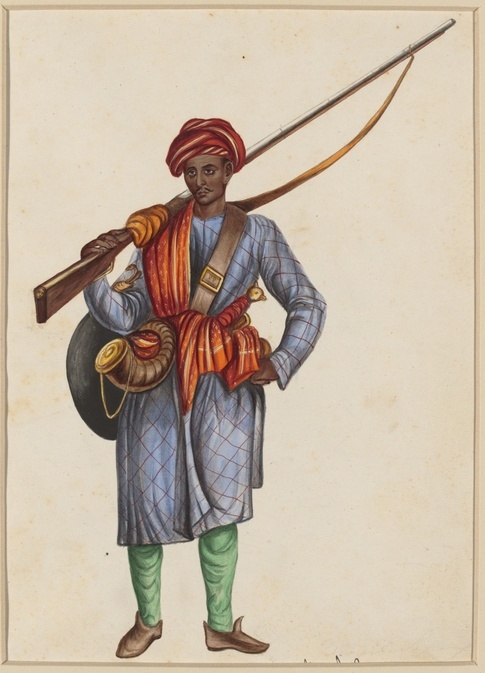 Swords are expensive and can only be made by master swordsmiths. Guns can be made by any two-bit blacksmith. Armour was a nightmare in terms of funds- and was useless in front of guns anyway. What sort of retarded King/ Peshwa/ Padshah would go into battle dressed like it was the Classical Age?
And just look at the scene again.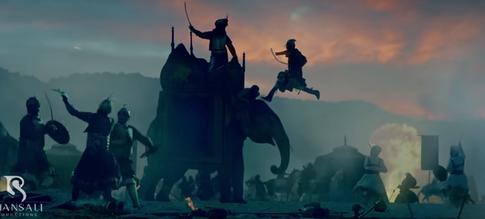 So, the only reason Maratha parkour-man is able to climb up the elephant is because of a conveniently placed human ladder. Nice. And because the War elephant- trained to trample, stamp & gore opposing infantry was friendly enough to let him do it. And as for Maratha elephant-man, his entire plan was to stand around with his sword raised- an effective fighting zone consisting of a five-foot radius around him with lots of air, half an elephant, & precisely zero enemies within his combat range. Nice. He could've at least brought a bow along…
And as long as we're on the topic of bows, we have Deepika in Bajirao Mastani -wearing the same over-sized anachronistic armour we see everywhere in the movie for some reason- using a two-finger pinch-grip- which is pretty much the most retarded way you can draw a bow. For one, I don't think a two-finger pinch grip would even suffice for draw-weights of more than 20-30 pounds- too low to cause any real damage.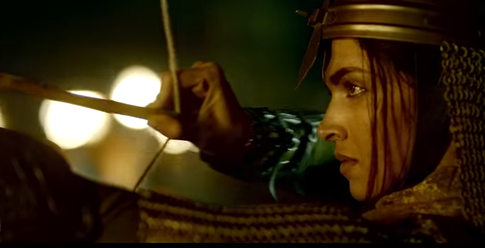 Her friends in this scene are little better. Why is everyone even using fire arrows? They're shit when it comes to dealing damage. Why not use normal arrows- or just get a goddamned gun? It'd cause more damage at any rate.

And speaking of damage- the way Deepika is drawing her talwar in this scene of Bajirao Mastani, she'll end up breaking her wrist or something of the sort. A talwar has a huge circular pommel, designed to freeze your wrist into a 90 degree position; someone drawing it with a straight profile- like Deepika here- will crack their wrist bones with the first strike. Ouch.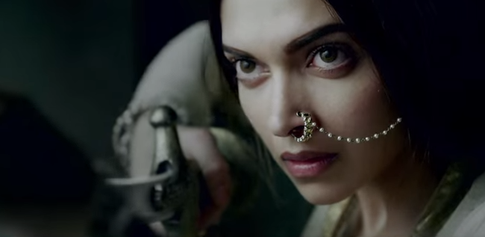 But will Bajirao Mastani succeed? Probably, yes.
The cinematography is cool, and there are a lot of Ridley Scott-esque shots- good move for any would-be Epic movie. Lighting is good. scenery is brilliant, and personally, I hold that keeping the sound track fairly subdued & subtle helps offset any future highs. Chanting is pretty impressive- and fairly new to Indian movies.
Even disregarding the Bhansali & Deepika factor, this movie hits all the right notes.
There's enough Hindu pride to make even the most gnarled RSS pracharak happy- a fairly wise move when half of India consists of illiterate, uncouth Hindu bhakts like me.
They've persianized a half-rajput girl (who was probably an agonstic of some sort anyway) in order to ensure the movie's 'secular' enough for the Indian intelligentsia.
There's enough jumping around, and screaming and swordplay to keep the most jaded Hollywood-fan from India's countless engineering colleges happy.
They're in the right spot to tap the Tripathi-Neelaknathan-Bahubali market; just the sweet spot when half the country is looking into the 4th rung of Maslow's hierarchy and desperately needs something to feel proud of.
And for understandable reasons- a bunch of kurta-wearing, half-starved, middle-aged troops carefully measuring out gunpowder into their mass-produced muskets falls miles behind a jumping, screaming, sword-wielding Ranveer Singh.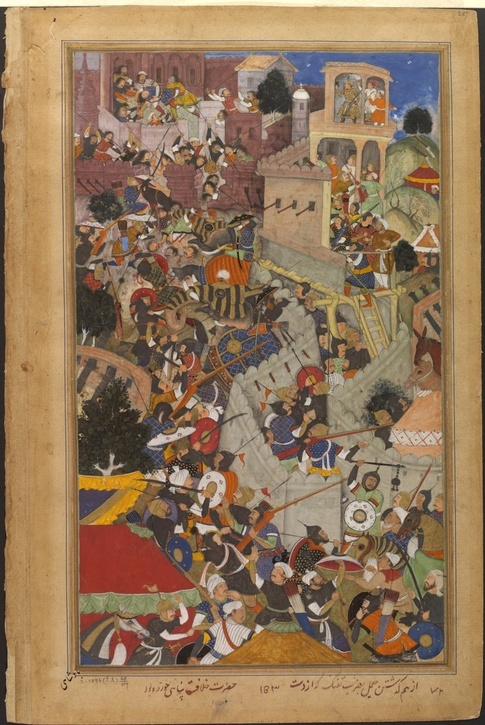 The Siege of Ranthambore fort in Rajasthan, 1568-69
     God was, as usual, for the big guns. Akbar the Great won the day.
Link to original Quora Answer
All Images courtesy: Quora.com