Ranging from MARS mission, to even discuss what composes a school and non-school, India is a hot-topic for scribes. One such opportunity was the move from the Maharashtra government to call Madrasas as non-schools; for these Madrasas do not teach elementary subjects like Maths, Science and English.
The opposition and the media houses, which are mostly anti-BJP quickly pounced on this hot dog, made headlines and feasted on it. As usual, anything which is "perceived" negative by a BJP led government will be highlighted in the headline by most media houses as "BJP-led government"; cementing a negative image on the party. Also, cartels of panelists, MPs, quickly paint the picture, communal. Among them, the most popular critic of the BJP government, Asaduddin Owaisi, the MP from Hyderabad slammed the BJP government; for he perceives that the government is insisting people on what to study. It's unfortunate, that a prominent voice from the community, terming this as a move to polarize the atmosphere. While Owaisi slams this move, it's important to look back at his alma mater. He did his schooling from a private funded school from Hyderabad (Hyderabad public school) and later went on to obtain his LLB from London and Barrister-in-law from Lincoln's Inn. Term it hypocrisy, for ensuring that children are deprived of elementary subjects or is it a part of bigger conspiracy in ensuring children are etched with the categorization of a religion, right from childhood. On the other hand, Owaisi ensures that the youth of his community doesn't deviate from the communal aspect; he boasts of youth clearing civil services exam having studied from Madrasas. Meanwhile, the Congress in Maharashtra has termed this as discrimination on religious lines and would take up the matter in the assembly. Biased media too, took the matter up their sleeves and acted in cohesion with the Congress party. Some of the headlines from prominent media houses, which justified their biased stance on government and acted in full power of opposition outside the assembly:
Maharashtra dubs

Madrasa

s as non-schools (No context in the headline)
Threat to 'De-recognise'

Madrasa

s alienates Muslims in Maharashtra (Polarization attempt)
Maharashtra calls

Madrasa

s as non-schools, BJP blames UPA for confusion (Instigating communal tension)
Crackdown on Indian

Madrasa

s exposes rift over Islamic education (This is a foreign media house based out of London).
However, the BJP government was quick to justify the move, by saying non-Muslims are not allowed to study in Madrasas and hence the centre is not an unbiased place, where any kid can get the necessary education, it is supposed to get. Added to this, the government also termed it as a place where religious knowledge is imparted and not formal education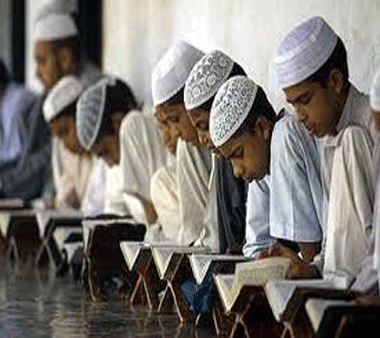 . The BJP government also clarified that the Madrasas must mandate the teaching of these subjects, if they have to be eligible to seek grants from the state.     Well, a government and its policy, its money, it makes sense to impose the minimum eligibility for an institute to perform in a certain way.
It's interesting that the Congress hasn't realized that the current system of Madrasas is religion based and hence this is discriminatory and not the move from the BJP government. What's more usual is the way Congress and the media attacking BJP for any move impacting the second majority of this country. Rather than slamming BJP for this decision, it would be more responsible from Congress to question the Madrasas for not including the elementary Maths, Science like any school imparting formal education. Well, an opposition, for it to oppose anything that's done and not be a responsible one.